Hi Ribblrs!
As you probably know, Ribblr launched in October 2020 and we've been growing rapidly since then with thousands and thousands of users from all over the world.
We want to give back to our community and celebrate its diversity, so today we're excited to announce the launch of a new section, Ribblr of the week!
Each week we will feature a different Ribblr, a member of our community, so we can all get to know each other a little better
So without further ado we're delighted to introduce our very first Ribblr of the week - Josh @combatcrochet !
---
Hey Josh! Tell us a little about yourself
My name is Josh and I live in Tacoma WA and I served for 15 years in the United States Army Infantry. During my career, I did two deployments to Iraq and one to Afghanistan. I also spent two years as a Drill Sergeant (which is where I got my inspiration for the logo) and after all the years of living an Infantry Lifestyle, on top of getting wounded in Iraq, I had to medically separate from the Army. I am now a Husband and Father, my entire family are crafters and artists and I spend my free time making crochet videos and teaching people how to crochet.
What is crafting for you?
The purpose of why I do what I do, is not so much about the projects I make but, I like making people smile. I believe every human exists to make the world a better place than when we were born. I want to show the world that creativity can be a therapeutic way to improve emotional health and deal with things like PTSD and anxiety, especially during a pandemic.
What is your favorite type of crafts and why?
Crochet is my favorite because I enjoy the repetition in each project, I enjoy the rewarding feeling of finishing a large project and I get most of my joy when I give someone a finished product and it makes them smile.
When did you start crafting and how?
I started crafting when I was a kid, my grandma used to sit us down and we would draw on grocery bags, do needlepoint on cut-up shirts and rags and it just kind of stuck with me. Another grandma was always making blankets and crocheting beautiful projects and she inspired me to learn. Fast-forward to today and now I am trying to teach others.
What was the longest project you worked on?
The longest project I made was actually the first project I finished all the way through. It was supposed to be a queen size afghan but, because I was learning at the time, it ended up being twice the size of our king size bed. But, I kept it as a reminder that I actually finished something from start to finish and I learned from my mistakes. I still consider myself a beginner, crochet is something that you can spend years doing and still have much to learn.
Which of your makes you are most proud of? Share a picture!
My favorite projects are blankets, I would only make blankets for the rest of my life if I could, and my absolute favorite was a blanket I gave away that I had named "Purple Haze" because it is a beautiful purple.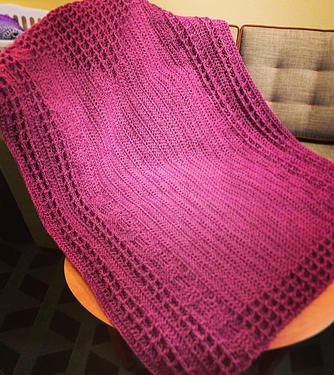 Any favorite song, book or movie you would like to recommend?
My favorite song is "7 Years" by Lucas Graham, my favorite book is "Hitchhiker's Guide to the Galaxy" by Douglas Adams and my favorite movie is "Return of the Jedi".
What is your favorite feature on Ribblr?
The social media aspect is my favorite. Meeting other creators and designers, getting to know them and hopefully making their days a little brighter.
Pay it forward - your shoutout to a fellow Ribblr
My favorite is Sonya from @BlackstoneDesigns - her patterns and her work is beautiful!
---
---
Add Josh to your friends list on Ribblr! Click @combatcrochet and then hit the follow button.
As our Ribblr of the week, Josh has been awarded with our special Ribblr of the week gold badge

Want to be our next Ribblr of the week? Send us a message!