Soo cool. I tried to frog one of my jumpers but I failed and I got in trouble lol
Take another picture before the whole thing is frogged, and I can write you a pattern for it that fits you now
Uhm i just frogged the whole fron piece xD
I have this picture if it helps tho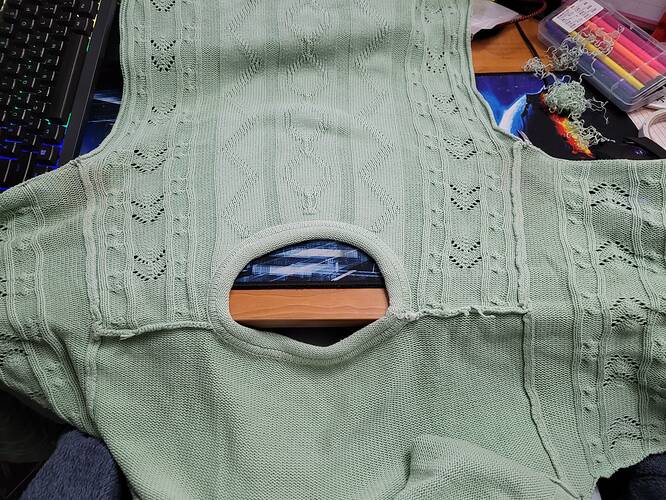 Update
My cat is helping xD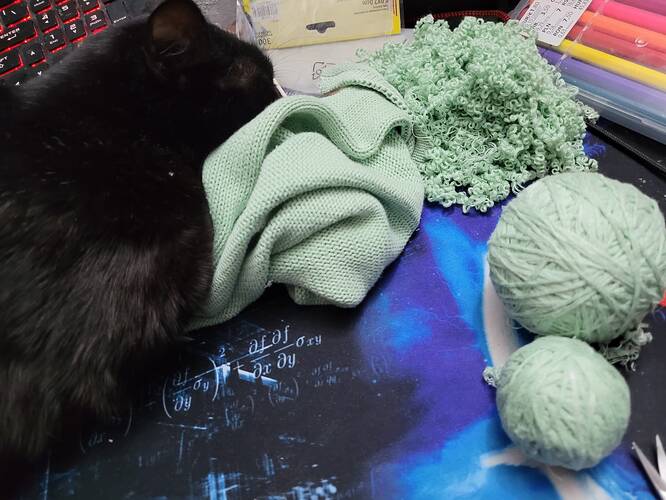 Cats LOVE to help
that's knit, but I can write a pattern for it and gift it to you so you can knit it or find a knitter
The chest measurement for your new size? So I get the right range
Oh noo you're too sweet

I don't wanna burden you​
140cm
The problem is mostly the arms tho i have i think 69cm or around that area and i had smaller arms before
Are you sure tho?
Well I have a couple of other projects going, so it won't be right away… And I'll list it in my shop to sell… And writing patterns is what I do anyway…
Your arms are or were 69cm and that's long, not around, correct?
Of course don'/ worry! The pattern on it was really fun
All wiggly around yk?
Had this on the sides and if i remember correctly a bigger braid (i don't remember the name for the pattern) in the middle
That is if you want to do something like this because i love how it looks
Around
I'm not sure how long i have them
1 sec let me check =))
So 60 long or 23' and 5" i think (idk how much half an inch is xD)
And 69 around or about 27'
I'll have to guess on the cuffs/collars/hem but hey, what would be the fun the EXACT same thing again? And copying old knitted items is kind of a talent of mine
This wiggly pattern is really fun to crochet or knit (i tried to knit it as a beginner and i was so proud even if it was a bit woobly lol) and i shared this as a bit of an inspiration :3
I'm not sure how to measure the collar but i hate close material to my neck especially wool
The cuffs were really light like this
And the hem (the border right?) Was made in a way i use
You knit double the size you want it to be and then you knit 1 row using the end together to avoid sewing it later
oh that's good that you can crochet another one! but it's sad that it doesn't fit anymore
i'm already using the yarn to test another amazing project, but i will definitely knit a similar sweater again
Yay for repurposing! And that is a very pretty green…
Yess
It hurt me to frog it but i'm making a frog anyway so =)))
So glad you could use the yarn for something else because you couldn't use it for the original project you wanted to use it for
I really like that green color by the way!