Our new feature drop is out now, with amazing new features!
Hi Ribblrs!
Today, we're really excited to introduce new features and improvements on Ribblr.
We'd like to start by thanking you for your amazing support and for submitting your feedback and suggestions. Many of our new features were suggested by you so we hope you'll enjoy this new release.
Don't forget to update the free Ribblr app on your iOS and Android devices.
Want the full release notes? Check it out below

TL;DR - watch this short announcement video from our founder @lir
---
What's new?
Click for a summary of all features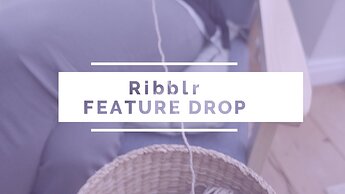 ---
Say hello to Ribblr ePattern 1.5!
Our interactive & eco-friendly patterns got a brand new look on mobile.
With less buttons and with new menus you'll enjoy this streamlined and user friendly format for the ultimate crafting experience.
There are no more pattern pages on mobile. Instead, you'll simply scroll to the next section or use the new hamburger menu to jump between sections quickly. We're sure you'll love this clean new look!
---
There are thousands of beautiful and unique patterns to choose from on Ribblr and it's now easier than ever to find your next project!
Use our new advance search to filter out the results based on your chosen craft, category, yarn, size, skill level, price and more!
Our smart system remembers your previous search position so you can always continue browsing right where you left off.
---
Designers can now easily assign testers and even editors for their patterns using their shop manager.
By clicking the new 'testing' tab you can create a list of testers and editors. Testers/editors can be assigned for specific patterns or for all patterns and can always be removed.
Much like you, editors can open your patterns in Ribbuild mode and edit your patterns.
Instead of gifting patterns you can simply assign a tester and they can have immediate access to your pattern(s) unless you remove them from your testers list.
Testers can now easily access and test patterns directly from their patterns library. You'll find a new 'Test it!' button for patterns you are allowed to test.
---
This one was released a few weeks ago as part of our June feature drop. If you're here you probably noticed that we have a new community layout with a fresh new look which makes navigation around the community fun and simple.
---
Ribblr menus now include icons for easy navigation, and we've also introduced new accessibility tools such as the ability to pause GIFs on the community with a single click.
---
Ribblr's infrastructure just got upgraded (again!) which means it's faster than ever.
---
New accessibility tools, such as pausing GIFs on the community with a single click

Designers: it's now easier to generate a receipt for your fees

Designers: improved smart sizing support. Now supporting all bracket types and all separators.

More abbreviations added

Improved mobile functionality and feedback

Fixed: links on the Android app not always opening correctly

Overall UX & UI design improvements
---
A HUGE thanks to everyone who helped us test the new features!
Want to try out new features before everyone else? Click here and join our testing group.
---
We're constantly improving Ribblr! We release fixes weekly and new features and improvements every couple of months. Feel free to use the community to suggest new features you'd like to see!
In case you missed it, here's what we released on our previous feature drop.
What's your favorite new feature?