We're really excited to announce our new feature drop!
As always, this update includes many new features suggested by you so thank you for your feedback.
Jump to section
Don't forget to download the free Ribblr app on your iOS and Android devices.
---
What's new?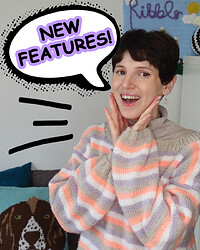 Perfect for the holiday season- you can now share your wishlist with everyone, including non-crafting friends so they can get you gifts you'll 100% love!
Simply head over to your wishlist, click the lock icon to make your wishlist public and then click the share icon. Use the copy link icon (in purple) and share your wishlist on social media and with friends!
---
Introducing a brand new journal feed! Head over to your personalized home page and see the new journals section. Click 'More journals' and get ready to be inspired!
Don't forget to hit the like
button to support your fellow Ribblrs.
---
We're expanding the rollout of our Spanish auto-translator. You can now find even more Crochet patterns in Spanish (Spain & Latin America versions) from designers you love such as @MJsOffTheHookDesigns, @Charliseyscrochetcloset @stitchingwithsab and more!
The auto-translator is still in beta and will expand further more in the near future so watch this space
We'd like to thank our testers and in particular our Spanish Expert, the wonderful @kyscottage for her amazing contribution.
---
Starting today designers can run discounts for specific patterns or for their entire shop and also run flash sales.
You'll be able to enjoy many more sales, including a special event at the end of this month…
---
Do you have a pattern you don't wish to make anymore? You can now archive patterns directly on your patterns library. Simply click the archive button and the pattern will automatically be transferred to your archive library. And you can always move patterns back if you change your mind.
---
Launched earlier this month, we've introduced our Ribblr monthly awards where you can get nominated and win our Pattern, Shop or Journal of the Month awards with special prizes.
Check out who won for October 2021.
---
We've improved our auto-convertor further so now you can use writing styles like 4"x5" or 4x5" and even 4x5 inches.
---
New notifications via the app (control your notification settings here)

Overall UX & UI design improvements
---
Thank you testers!
A HUGE thanks to everyone who helped us test the new features!
Want to try out new features before everyone else? Click here and join our testing group.
---
Previous feature drops
In case you missed it, here's what we released on previous feature drops.
We're constantly improving Ribblr and we release fixes weekly and new features and improvements every couple of months. Feel free to use to suggest new features & improvements you'd like to see!
---
A secret bonus!
Next Friday we've got a VERY SPECIAL EVENT… can you guess what it is?
---
Vote for your favorite new feature!
So… what's your favorite new feature?
Share wishlist
Journal feed
Shop discounts
Spanish auto-translator expansion