Where's the pattern for the pickle?! This isn't the most user friendly website.
I'm sorry you're having trouble navigating through Ribblr, it can get some used to, are you on the mobile app or computer? Also welcome to Ribblr, what do you mean by pattern for pickle? Is there a specific pattern or just any?
Click the search icon, type in what you want and use the filter to the left and at the top

If it's a pattern you already loaded, use the "my stuff" icon and look in your 3 folders or type in what you are looking for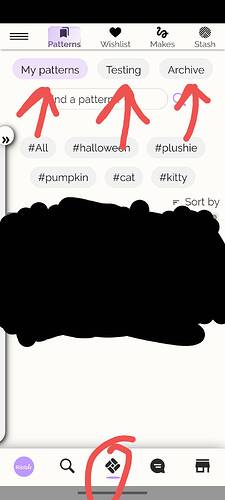 I did a search for the emotional support pickle. Nothing came up
Regards,
Lisa
Is this a pattern you got or are testing? Or are you looking for it in the shop? If you're looking for a patterned named that in the shop are you sure that's the correct name or will any pickle pattern do? If it is a specific pattern where did you learn of it?
Yes that's the one! I still can't see it though. Too many pop ups and the pattern is blurred out.
Regards,
Lisa
The only pop up you should see is the "get it now" button, which actually loads the pattern into your library, instead of just previewing it from ribblrs library. The pattern will be blurred out in a preview.