Meet Wendy. She is the new 18" medium size LetoDoll. Isn't she sweet? Check out the journal for more pictures.
https://ribblr.com/journal/HookedOnCotton/wendy-medium-crochet-doll-crochet
Wendy's so adorable!!
You're so talented, I love seeing your new creations!
I agree. I followed Maria's color scheme this time. Couldn't think of anything better. Sweet.
Thank you
Oh my gosh I love this so much! How long does it take for you to make these dolls?
On average, I think 10 days. So worth it. I fall in love with each one as I go. Started another and I am really excited. So far, I've matched them up with the child receiving them. This one I followed Maria's color scheme because it was perfect. This next one is more what I've been thinking all along, so might be mine. We'll see. In about 10 days.
Wow! That's great!
But I have blonde hair…
These have been so fun for me to make custom to fit the recipient. Blonde would have been adorable. My current one has golden hair.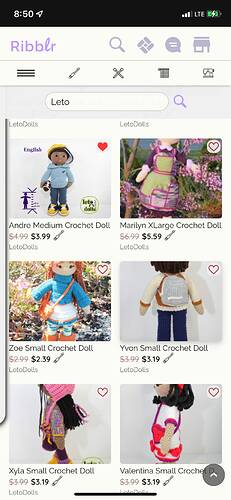 LetoDolls is the name of the shop. There are probably 15 dolls or so.
@HookedByMarilyn has been working her way through the list.
Closer to 30 dolls. Check them out. This
is her newest. I'm not quite done yet. Still working on her hair. Candy is my 25th and still have a few to go.
Mine shows how a color change can change things. https://ribblr.com/makes/HookedOnCotton/candy-small-crochet-doll-crochet?referrer=6315