We are extremely excited to release Ribblr 0.85 today!
This release is all about providing better usability and accessibility, with A LOT of new features and changes.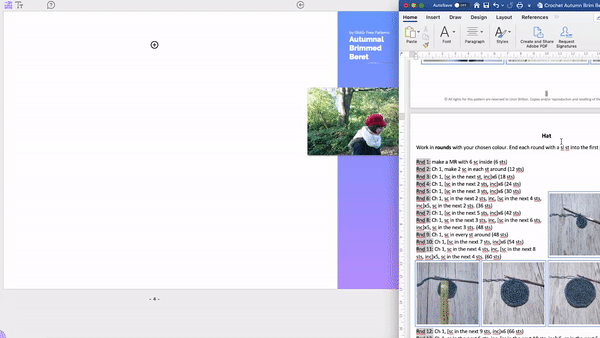 What's new?
---
One of our main goals is to be a home for all crafters. We are excited to announce that we now have our own Ribblr community. We encourage you to be an active member! Discuss anything you like, help others, ask questions and share your FOs or WIPs. Please follow the community guidelines, to help us all maintain a positive and fun discussion.
Please use the feedback & support space to report bugs or issues and suggest features. This way we can track everything and prioritize the requests with the highest votes.
Ribbuild is an amazing tool for designing new patterns. It's simple and clean yet powerful. With the help of our community, we've been successful in testing a brand new GAME CHANGING feature. You can now select and copy multiple lines from an existing pattern (preferably in word/pages format), and paste them into Ribbuild. Just watch the magic happens. You'll find that Ribbuild even enters row/round numbers for you. According to our extensive tests, it now takes less than 5 minutes to add an existing pattern to Ribblr. Oh, and don't forget that we save you time by creating a listing and a product page for your pattern!
Ribbuild is now more robust than ever before. You can select multiple lines using the select/tick icon and perform multiple actions. That includes duplicating, deleting and even merging multiple lines.
Up until now you could only enter a single number for each one of your rows/rounds. We now support multi-numbered row/round entries in the following format: X-X (for example: 2-6). That is extremely useful for a repeated row/round. You can either duplicate a repeating line several times or simply enter numbers in the circle to the left of that line. Ribblr ePattern will show crafters that row/round as many times as it should be repeated so they can track their progress. Test it out and see for yourself!
As a vital part of our community, you now have your very own personal profile. Feel free to customize it. Upload a profile picture/avatar and add information about yourself. Crafters who will need help with your patterns will be prompted to send you a private message on Ribblr instead of an email, so you can keep track of everything in one place. You will get a notification when someone messages you.
You can now add tunisian crochet patterns! Simply choose 'Tunisian crochet' on your pattern's cover page.
You might spot some design tweaks throughout Ribblr, such as the 'about shop' for example. This is part of our continuous effort to provide you with the an accessible and friendly experience. Let us know what you think. Share your feedback here in our community!
You can now find additional help through our help center, with answers to questions and insightful GIFs.
Bugs and improvements
You can now hover over images in Ribblr ePattern to zoom in
Sizes button in Ribbuild will now be colored in pink for lines that you've edited
Manuals and tours have been updated
A new button in Ribbuild to help designers quickly get to the top of their pattern
Intro sometime not showing on product page now fixed
'Read more' pop-up added to home page