Hi Ribblrs! Say hello to Alli (@loopedbyalli) of loopedbyalli - our Ribblr of the week!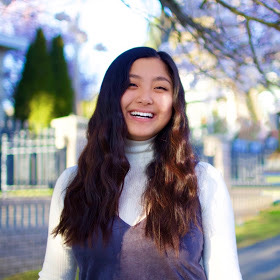 ---
Hi Alli!
Please tell us a bit about yourself.
Hey, my name is Alli! I'm a business owner, content creator, and student. My passion has always been creating things and being able to share it with others. I'm very grateful to be doing what I'm doing because it allows to do what I'm passionate about.
When did you start crafting and how?
I started crafting when I was in 10 years old. It began with origami, then turned into scrapbooking, knitting, and painting. Then, I started crocheting in May 2020.
Oh wow! So do you have a favorite craft type and if so - why?
It's always changing, but currently I love crocheting! It's a great past time and I've gotten to a point where I can do it while multitasking.
How did you start designing?
I'm always inspired by the fashion I see on social media as well as in everyday life. I absolutely love colours and statement pieces, so I started to combine patterns and colours that caught my eye.
What is your usual process of designing?
I start by looking at the yarn I already have a sketching out a design on my iPad. I experiment with combining different colours. I always go head first and start creating because I don't mind unraveling and restarting if I have to. It's all part of the process
Definitely! What inspires you to create & design?
I go on pinterest a lot, and I always look at people's outfits on the street for inspiration. Seeing all of the different style always sparks an idea.
What was the longest project you worked on?
The longest project I've worked on was my giant unicorn amigurumi. It was so fun to make!
And the shortest one? (excluding frogging!)
I recently made dish cloths and that took no time at all!
What are you working on right now?
Currently, I'm working on a crochet granny square tote bag.
Any favorite song, book or movie you would like to recommend?

I recently watched Shang Chi and it was amazing. It was really amazing seeing an Asian superhero. My favourite song to listen on the streets while walking is 'Voyager' by Birdy, I feel like I'm in a movie.
What is your favorite feature on Ribblr?
I love that there is a translation option so people around the world can enjoy the pattern.
Pay it forward - your shoutout to a fellow Ribblr
Shoutout to @CharliseysCrochetCloset I love her amigurumi designs!
Thank you for sharing Alli!
---
Check out Alli's shop - loopedbyalli:
---
Want to read more?
Check out all our previous featured Ribblrs here.
Want to be our next Ribblr of the week and earn a special badge?

Send us a message and be our next Ribblr of the week (plus earn our special Ribblr of the week gold badge🏅)
---
Questions/compliments for Alli? Share them below!