This week we are happy to introduce you to Andreia (@LemonYarn), the designer behind Lemon Yarn Creations our new Ribblr of the week!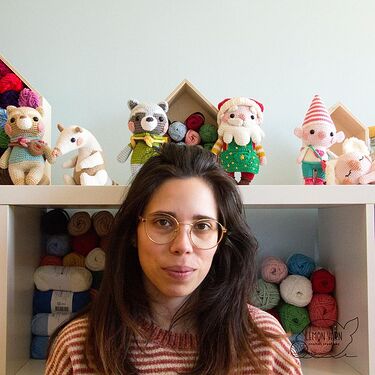 ---
Hi Andreia! Please tell us a little about yourself.

Hi, my name is Andreia, I'm 28 years old and currently living in Portugal. I have a master degree in Architecture but since 2015 crochet has been my real passion.
When did you start your crafting journey?
I learned how to crochet 6 years ago out of an impulse. I've always been passionate about arts and crafts, and one day I saw a classmate crocheting a keychain and immediately fell in love. On the same day I bought my first hook and started learning.
And when did you start designing?
After a few years of crocheting amazing patterns from other designers I finally felt confident enough to start designing my own characters. At first I was very nervous but the support of the community really helped me to push myself as a designer.
Is it fair to assume Crochet is your favorite type of craft?
Crochet is definitely my favourite craft! Although I'm also very passionate about drawing and painting, and I'm currently learning how to knit. Eventually, I want to explore more yarn related crafts and start mixing them up.
What is your usual process of designing?
My design process always starts with an idea I either came up by myself or got inspired from somewhere. Then I start making mood boards to organise my ideas, for shapes, colors and materials. Once I have everything planned out I start crocheting and then it's all about getting those shapes done.
My biggest source of inspiration comes from everywhere, nature, pop culture and pretty much anything that catches my attention.
What's your favorite book or movie?

I haven't been able to read in ages, but I am a very big fan of Agatha Christie's novels! My favourite has to be "And then there were none".
Is there an interesting/funny story that happened to your recently?
I'm not sure if it counts as a funny story, I enjoy working on the couch to be more comfortable and living with two pets (a cat and a dog) means I have to be super watchful or they'll grab whatever I'm working on and start running everywhere, so it quickly becomes a scene from The Benny Hill Show around here, which is pretty funny.
Haha, that does sound funny!

What's your favorite Ribblr feature?
My favourite feature on Ribblr has to be the tracking of the rounds! Too often I forget where I'm at on a project, and being able to cross out what has been done helps a lot.
Finally - pay it forward: your shoutout to a fellow Ribblr.
I would like to give a shoutout to Bianca (@BlueSparrowHandmade) from Blue Sparrow Handmade! Her designs are truly gorgeous and everyone should know about them.
Thank you for sharing Andreia!
---
Check out Andreia's beautiful Amigurumi shop and support her work:
---
Want to read more?
Check out all our previous featured Ribblrs here.
Want to be our next Ribblr of the week and earn a special badge?

Send us a message and be our next Ribblr of the week (plus earn our special Ribblr of the week gold badge🏅)
---
Comment below with your questions and compliments for Andreia