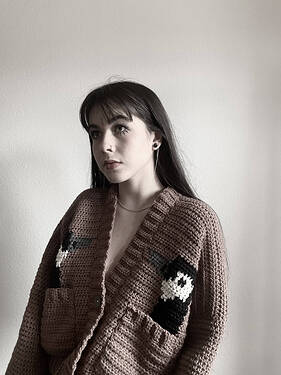 ---
Hi! Tell us a little about yourself.

I'm 23, I've lived in a few different states in the US but I've never left the country. I have two cats, I love cartoons, iced coffee, and crochet! I sell finished pieces and patterns
When did you start crafting and how?
I've been creating things since I could hold a pencil, it was always so encouraged in my family. When I was 10, my dad and grandma were cleaning out my great grandma's attic and I came across a basket with yarn and crochet hooks and tools. I asked my grandma if she knew what they were and she sat down to see if she could remember what her mother had taught her long ago. She remembered a chain stitch and that was it, but I was already hooked! I went online to teach myself the basics, and kept up with it ever since.
And how did you start designing?
When the pandemic hit, it was my 10th year with crochet. I started seeing the rise in popularity with fiber arts, and realized I had never made a garment! It was always amigurumi, blankets, cat toys, and other miscellaneous creations. With some trial and error I managed to freehand a top without looking at a garment pattern! I took notes and used them to make another better top, different styles, and then sweaters and more. It's like the same satisfaction as solving a math problem and a puzzle at the same time.
Do you participate in other crafts?
Crochet is the only fiber arts craft I know for now, although I want to learn knitting and machine sewing some day! It is so relaxing and the possibilities are endless. Drawing has always been important to me, and I try to keep it close so I don't lose the skill, so I draw all my logos/graphics/and stickers for my business!
What was the longest project you worked on?
When I was 15 I wanted to make a quilt of squares that would form an image of the super mario mushroom power ups! But I thought it was a good idea to use a bigger hook to speed up the process and did not factor in stretching…after making 360+ squares I realized the blanket would have been about 12ftx12ft haha!! I did not complete the seaming process.
And the shortest one? (excluding frogging!)
I made my cats a little brown amazon package! It was a small square big enough to work in a graphic of the curved arrow logo. I attached two together and stuffed it with crinkly cellophane wrappers
I think it only took 40 minutes.
What are you currently working on? Be honest - how many WIP do you have right now?

I am currently working on a vest pattern which will be a 2 in 1, pullover vest or button up with pockets! So I am creating some different variations of that design to show off as the weather warms up. Surprisingly, I only have 1 WIP! I completely tackled a bin of maybe 6 WIPs last year and have been trying to stick to just 1 at a time now
Which of your makes are you most proud of?
I'd have to say my most recent Duck Duck Goose cardigan pattern, it has been so popular and I am loving seeing all the creations. It has 25 different bird graphics that peek out from behind the pockets, and each of the 25 birds has scientific information about the species. My Purrfect Bag pattern is also so cute! It is a cat shaped bag with an adjustable strap, mouse wallet, and a fish shaped lipstick holder.
So what is your usual process of designing?
Usually a design starts with an idea, or an epiphany even. Then I will sketch it out and figure out if I can incorporate a few variations to appeal to a wider audience. Then using what I've learned over the years of designing, I can estimate the steps I need to take to achieve my vision. Then from there it's just a bit of math for graphing and/or sizing
And what inspires you to create & design?
I get a lot of ideas from cartoons and things in real life that I find cute/aesthetic. It seems that my designs are often similar in novelty to baby and childrens clothing, which I love.
Now time for some pop culture! Any favorite song, book or movie you would like to recommend?
Not in particular! I typically watch shows or listen to podcasts when I crochet, and I am working on coming out with a podcast of my own very soon!
Any funny story you'd like to share with us?

I was at the thrift store and found a pair of knitting needles for $0.50 and I bought them because I am planning on learning knitting one day, just for personal projects. Then on the same day, I happened to receive a gift of yarn and a knitting book from my mom! I do believe this is a sign haha
That is a sign!
We'd love to know - what is your favorite feature on Ribblr?
I love that you can check off the steps as you go, totally convenient!
Finally - pay it forward - your shoutout to a fellow Ribblr

I want to shout out @arielcrochets who has been supporting me since the beginning of autumn olive crochet and is making cute amigurumi patterns!
Thank you for sharing!
---
Want to read more?
Check out all our previous featured Ribblrs here.
Want to be our next Ribblr of the week and earn a special badge?

Send us a message and be our next Ribblr of the week (plus earn our special Ribblr of the week gold badge​)
---