Say hello to Sarah Jayne- the designer behind Bella Coco Crochet (@bellacococrochet), and our Ribblr of the week!
With nearly 2M followers, many of you probably know Bella Coco Crochet. And you can now learn even more about Sarah-Jayne and her story. Scroll down to read our interview!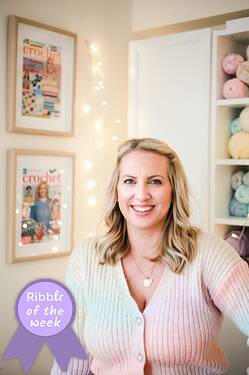 ---
Hi Sarah-Jayne! We're so happy to welcome you to Ribblr. Please tell us a little about yourself.

Hi! I'm Sarah-Jayne. I'm from the East Midland in the UK. I live with my Husband Anthony and my 2 little girls Ella and Everleigh.
When did you start crafting and how?
I've always loved crafting since I was a little girl. I would always be drawing and I did a lot of cross stitch in my early teens. I first discovered yarn when my mum and Grandma taught me some Knitting. They would always cast on for me and I would knit never ending scarfs because I didn't know how to cast off.
I learned to crochet when I saw lots of people on Instagram doing it and I wanted to give it a go too! The rest, as they say is History.
And how did you start designing?
It's hard to pinpoint when exactly I started designing. I never really followed patterns so I guess on some level you could say straight away. As my confidence grew, so did my skills and I started to push my design boundaries. This is something I continue to do till this day.
Do you have a favorite craft type and if so - why?
Soft crafts are definitely my favourite with crochet top of the list.
What was the longest project you worked on?
I worked on a blanket for my book which will be released in October 2022, I worked on it on and off for months. I've also just finished up my 'Briar Blanket' which is absolutely huge. I made it for my Super King size bed, so it took a long time to make.
Oh my! That sounds amazing. And how about the shortest one? (excluding frogging!)
I am a lover of quick and easy projects, so quite a few. I've recently made a beach pouch which only look and hour or so.
What are you currently working on? Be honest - how many WIP do you have right now?

Are we talking about current WIPs or WIPs that haven't been touched in years? Because I have plenty of the latter!
I have plenty of projects on my to-do list at the moment, but surprisingly not that many actually on the hook. So I think around 2 at the moment.
Which of your makes/designs are you most proud of?
I love the Bobble Stripe blanket and the Everleigh Blanket. Both were made for my girls when they were born. I love them because they have so much sentimental value.
What is your usual process of designing?
It really does vary. Most of the time I get an idea pop into my head, I choose what yarn I'm going to use and then I have a play.
Sometimes the yarn comes first and then everything else falls into place.
What inspires you to create & design?
It really can be anything. From seeing a gorgeous colour palette on a bag, a painting or even an item of clothing. It's quite common for me for an idea to pop into my head when I'm about to fall asleep….which is pretty cool but also very annoying when I need to sleep.
Time for some pop culture! Any favorite song, book or movie you would like to recommend?
I love a wide range of music, I guess it depends on my mood. I love classical, Rock, Pop, R&B, Country….you name it!
I'm a lover of personal development and business books. Although, I always listen to the audio versions because it leaves my hands free to crochet at the same time! The last movie I watched was the new Top Gun! Such a great film, I had goosebumps when the opening titles came on!
Care to share a funny story that happened to your recently?

I recently had a message from a fellow YouTuber saying that they thought I'd left some 'sensitive content' in one of my video. I panicked wondering what it could be. Myself and the team watched the video back at the point she had directed us to. Let's just say, it sounded like it was a little 'windy' where I was lol! I haven't laughed that hard in a LONG time. Myself and the team were in stitches with tears rolling down our cheeks.
I know 100% it was the chair squeaking, but I don't think the others were quite so convinced! lol. It still gives a giggle from time to time!
That's hilarious!

Since you recently joined us, we'd love to know - what is your favorite feature on Ribblr?
I don't think I could say one specific feature. I just really love the overall easy of use! BUT, if you forced me to choose, I would go for the auto translator. So many people get confused between UK and US terminology, so the easy switch between the two is just amazing.
Here are my thoughts about Ribblr:
Awesome!
Lastly, pay it forward - your shoutout to a fellow Ribblr
There are so many accounts on Ribblr, but my shoutout does to Briana K designs. Such gorgeous patterns.
Thank you for sharing!
---
Want to read more?
Check out all our previous featured Ribblrs here.
Want to be our next Ribblr of the week and earn a special badge?

Send us a message and be our next Ribblr of the week (plus earn our special Ribblr of the week gold badge​)
---
WIN BELLA COCO CROCHET PATTERN! Don't miss out on our giveaway on Instagram.