Say hello to Bretony (@Bretony) the designer behind Bretony, and our Ribblr of the week!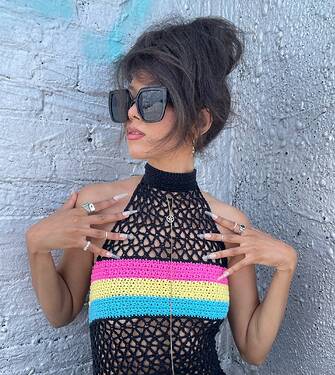 ---
Hey! Tell us a little about yourself

Hello! My name is Bretony, and I live in Brooklyn New York. I have always worked in creative fields of some aspect, and I love doing many different new things all the time so I don't get too bored. I like the process of making things a lot more than the technical or business side, and I also love to teach others how to do and make things. Besides fiber arts, I enjoy writing, dancing, singing, and videography. I'm also a huge advocate for anything divergent from the norm.
When did you start crafting and how?
I was born into a family of artists. My mom was a writer and teacher, and my dad was a musician, so I've made things my whole life. As far as crochet and knitting, I learned around 6 years old. I also learned how to hand sew around that time as well. I made small little trinkets and tiny sewn teddy bears. I didn't start making clothing until around 2016 when I randomly found a pair of knitting needles at my sister's job.
That's so awesome! So how did you start designing?
After watching a few youtube tutorials of basic bikini tops, I wanted to make something I could wear as an entire outfit. That's when I started designing longer garments. When I first started crocheting, I couldn't find many patterns that were my style. There were mostly full coverage basic sweaters and tops. I realized I could make things that were a bit more edgy and high fashion.
Do you have a favorite craft type and if so - why?
I love crochet the most… mostly because I'm very lazy and you only need one needle! I also really enjoy trying things on as I make them up, and crochet is really good for freestyling pieces, since you can measure as you go most of the time.
We'd love to know - what was the longest project you worked on?
The longest project I've worked on was probably a floor length full coverage dress. It took so long because of the tiny hook I used, as well as the super tight stitch.
Wow! And the shortest one? (excluding frogging!)
The shortest one was a handknit dress that I recently made. In contrast to my longest project, the needles I used were HUGE, and the stitch was quite loose.
What are you currently working on? Be honest - how many WIP do you have right now?

I have a hundred thousand wips because I'm scatterbrained and get bored/ frustrated pretty often. Also, I'm a person of convenience, so If a new yarn is near me, I'll pick it up to do a quick swatch. Currently I'm working on a couture garment focusing on aspects of sustainability!
Which of your designs are you most proud of?
I'm very proud of all of my babies! But I think My favorite would have to be my monster bodysuit. I made it for Halloween one year, and I just think its such a random concoction of things that turned out so interesting!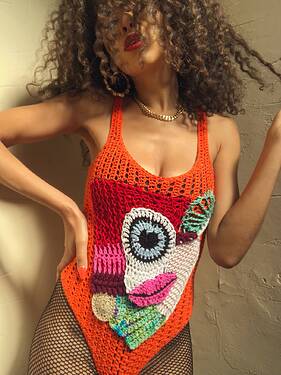 What is your usual process of designing?
For designing, sometimes I begin with a color in mind. Sometimes I begin with a yarn in mind. Sometimes I begin with a style of garment in mind. After the initial thought, I try not to look too much on social media so I won't get toooo influenced by another person's work (it will happen naturally, but I think some musicians do the same thing when creating new music). I then do a lot of trial and error testing. Also, sometimes mistakes can turn into great ideas, so I just try to not be so focused on something super specific and let the ideas transform as they will.
What inspires you to create & design?
People love to ask about inspiration a lot, and I think it comes from too many different things to pinpoint. It can come from a color, a shape, a. person, a tv show, a sound… really and truly anything could inspire a design. In a creative block however, it's really hard to find things you might connect with. But it will eventually come back!
Pop culture time! Any favorite song, book or movie you would like to recommend?

Unfortunately, I like a lot of trashy reality tv shows, so I wouldn't take my recommendations for that! For music, I really really love anything by Anita Baker. Her voice is golden! Also, shameless plug, my boo Treya Lam is an incredible musician whose songs will definitely make you cry.
What is your favorite feature on Ribblr?
I really like the fact that it has a few different categories for crochet, sewing, tunisian, and knitting. Also a lot of the designs are quite interesting!
Finally, pay it forward - your shoutout to a fellow Ribblr
I would like to shout out Ashlee from The Dream Crochet! (@TheDreamCrochet). Always a new cool design to look forward to from her!
Thank you for sharing Bretony!
---
Don't miss out on Bretony 20% OFF flash sale!
---
Want to read more?
Check out all our previous featured Ribblrs here.
Want to be our next Ribblr of the week and earn a special badge?

Send us a message and be our next Ribblr of the week (plus earn our special Ribblr of the week gold badge​)