Say hello to Hunter Mae (@maecrochets) - an amazing designer and our Ribblr of the week!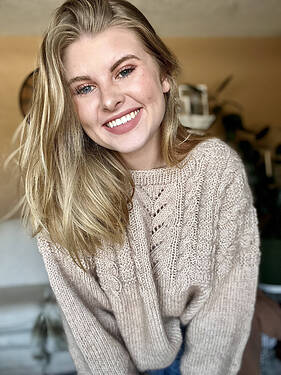 ---
Tell us a little about yourself.
I'm Hunter Mae of Mae Crochets and I'm 24. I'm from the Midwest and currently live here. By day, I'm a software engineer, and by night, a fiber artist. When I'm not crocheting or knitting, I enjoy tap dancing, hunting, hiking, and spending time with my husband and two crazy dogs.
When did you start crafting and how?
My grandma taught me how to crochet when I was 8. She had learned from her mom and passed it down to me. I crocheted for a while, but then stopped due to other commitments. When I was in high school, after she passed away, I decided to take it up again. To my surprise, my hands remembered the skills and I was able to pick it up quickly. I taught myself further with YouTube videos. In the last two years, I've also learned how to knit using YouTube videos.
And how did you start designing?
I've always been drawn to patterns. Written patterns are much easier for me to comprehend than visual ones, such as videos and graphs. As a software engineer, pattern designing is a language I'm comfortable with, just like coding. Two years ago, I decided to try my hand at designing a pattern for the first thing my grandmother taught me to make: a double-lined potholder. I instantly fell in love with writing patterns and gained confidence in my ability to design my own.
Do you have a favorite craft type and if so - why?
I discovered Tunisian crochet about three years ago and fell in love with it. My favorite thing about it is the untapped market. There are fewer Tunisian crochet patterns compared to regular crochet patterns, making it easier for me to jump in and design patterns. Learning a new technique was thrilling, and I love that Tunisian crochet produces unique results.
What was the longest project you worked on?
I'm not sure if I can pinpoint a specific project that took me the longest. While learning to crochet, I made a lot of blankets. Now, I can't make a blanket unless there's a large variety of different stitches or a design to keep me entertained. I mainly focus on clothing at this point. I tend to crochet a lot faster than others, so garments actually don't take very long for me to complete.
And the shortest one? (excluding frogging!)
The shortest project that comes to mind that I've made recently is my Willow Bandana pattern. The pattern is a Tunisian crochet bandana pattern and it takes me about an hour and a half.
What are you currently working on? Be honest - how many WIP do you have right now?
I actually have four patterns currently in the works. I do have yarn for four other projects, but I'm trying to resist starting them until my other projects are completed. All of these projects include a knit cardigan, a crochet vest, a Tunisian crochet blanket, a crochet top, a knit sweater, a knit quarter-zip, a knit dress, and Tunisian crochet joggers.
What is your usual process of designing?
When designing, it's important to have a good organizational schedule. When I get a design idea, I can't help but start right away. I power through it for a bit, but then I get another idea and abandon the first one. This has worked so far, but I need to be better organized.
When I start, I map out the math to make sure it's understandable and size-inclusive. After that, I work on the pattern for my size. Once the project is complete, I focus on the pattern itself.
What inspires you to create and design?
I'm constantly inspired to create and design. A stitch, color combination, or even an idea can spark a new project. I always try to keep my audience in mind when designing; that's why I created the Ultimate Stash Bust Sweater pattern. It was originally a test for my Universal Drop-Shoulder Sweater pattern and a way I could bust my own stash, but the response from my followers was so positive that I knew I had to make it available.
Any favorite song, book or movie you would like to recommend?
Personally, I'm a big fan of true crime podcasts. I highly recommend Morbid and RedHanded! I'm looking forward to attending a live showing of RedHanded in March where I'll be wearing my merch shirt and my own knitted cardigan!
Care to share a funny story that happened to you recently?

My husband and I finally decided to get a second dog. We got a sweet Aussie doodle puppy named Captain. Our two-year-old dog, Bucky, was so excited about the new addition to the house. He's usually anxious around people, but he loves other dogs.
Bucky had never been territorial about his things before. He was always fine with other dogs playing with his toys. However, since the puppy's arrival, he's had a change of heart. Whenever Captain takes a toy to play with, Bucky immediately takes it away and puts it on top of the couch, where Captain can't reach it. This leaves Captain so frustrated that he starts barking until his short attention span kicks in and he grabs another toy. Before long, there's a pile of toys in one spot on the couch!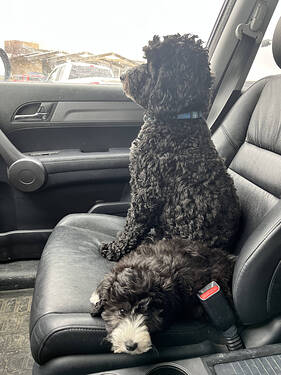 What is your favorite feature on Ribblr?
I adore how Ribblr separates pattern instructions by size. It eliminates the unnecessary mess that often accompanies patterns with multiple sizes, making them much simpler to follow.
Lastly - pay it forward - your shoutout to a fellow Ribblr

I would like to shout out Sky @seamsbysky. Her patterns are so unique and fun and she is such a sweet person. You should definitely check out her designs and follow her.
Thank you so much for sharing!
---
Don't forget to check out the Mae Crochets shop​
---
Want more?
Check out our previous featured Ribblrs here.
Want to be our next Ribblr of the week and earn a special badge?

Send us a message and be our next Ribblr of the week (plus earn our special Ribblr of the week gold badge​)