Say hey to Jess (@TheUnraveller) of The Unraveller, our Ribblr of the week!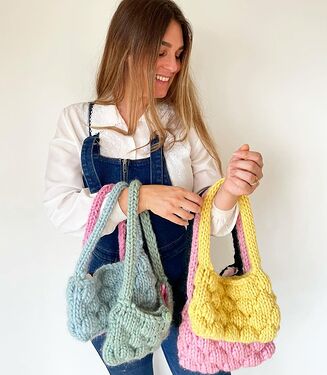 ---
Hey Jess! Please introduce yourself.

My names Jess and I live in Australia. I've been knitting since Primary School and finally took the plunge last year to start a page dedicated to my knitting.
I work as a Vet Nurse and as an Animal studies teacher and also have a daughter that keeps me very busy!
You've been knitting since a young age! How did you get into designing your own patterns?
I started designing my own jumpers a couple of years ago when I decided to create my own jumpers rather than following another designers pattern. I've always loved colours and unique silhouettes so I wanted to take my ideas and create something I could wear.
That's awesome. So is it fair to say Knitting is your favorite craft?
My favourite craft is definitely knitting! I can only sew basic things and have only attempted crochet once.
What's the longest and shortest projects you've ever worked on?
The longest project I worked on is one that I'm still working on!! Currently knitting a cardigan using 3mm and 3.5mm needles but have unfortunately run out of wool that is now sold out so close to the finish. The shortest project is probably my bubble bae bag pattern. It's super quick and I can whip one up in a couple of hours.
Which of your makes are you most proud of?
The knit I'm most proud of is my patchwork jumper. It's made using scraps and all of my favourite colours. I've also only ever made one so it's special to me!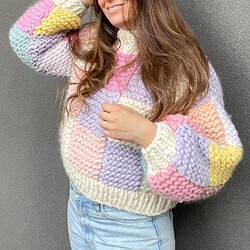 What inspires you to design and what's your usual design process?
My main inspiration is colour. I can get inspired by anything if I love the colour. I see pictures of lilac cakes and pink tulips and feel inspired. I love looking at pages that focus on colour.
My usual process of design is thinking of colours and shapes that I want to use. Also stitch patterns inspire me a lot.
Pop culture time! What are your favorite movies, songs and books?
My favourite movies are 500 days of Summer, Blue Valentine and Melancholia.
Favourite musician is tricky because I'm a fan of so many but I'm a huge fan of Father John Misty and Arcade Fire.
Favourite books are, 'a little life,' and 'the time travellers wife.'
What's your favorite feature on Ribblr?
Favourite feature on Ribblr is how it automatically converts measurements to cms or inches!! Very clever!!
Finally, your shoutout to a fellow Ribblr!
Shoutout to Uma knits (@umaknits) on Ribblr!
Thank you so much for sharing Jess!
---
Check out The Unraveller shop:
---
Want to read more?
Check out all our previous featured Ribblrs here.
Want to be our next Ribblr of the week and earn a special badge?

Send us a message and be our next Ribblr of the week (plus earn our special Ribblr of the week gold badge🏅)
---
Comment below with your questions and compliments for Jess!