Say hello to Jessica (@transatlanticcrochet) - our Ribblr of the week and the designer behind Transatlantic Crochet!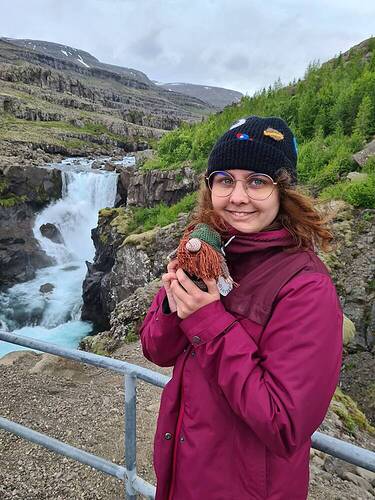 ---
Hey! Tell us a little about yourself.
My name is Jessica. I lived in the UK until I was 11, then lived in France until I was 25 and now I live in Iceland. I'm a software engineer and I currently work for a video game company in Reykjavik and run my own party princess business.
When did you start crafting and how?
I've been crafting since I could hold a needle. My mother is mostly a quilter and had me sewing from (at least) age 3. I made quilts and clothes as a child but I didn't get into crochet until my mum taught me how to do it on a camping trip when I was 16. Once I had mastered it, I moved on to crochet cosplays, and that's basically all I do now.
That's incredible. And how did you start designing?
After following patterns for years, it was the natural next step for me. I began to understand how patterns worked and started either coming up with original ideas or creating the patterns I felt were missing. I only started making crochet cosplays in 2017 and didn't think to write down any of my cosplay patterns until covid hit - oops.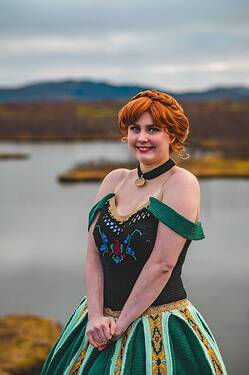 Do you have a favourite craft type and if so - why?
I am absolutely besotted with crochet. It's quick, easy, and simple to undo if you make a mistake (looking at you, knitting). I also like how it starts off small and becomes bigger, unlike sewing where you need the space to cut big pieces out.
What was the longest project you worked on?
So far, the longest project I have worked on is Anna's ball gown. It took me 18 months to complete. However, I feel like Mirabel's outfit will be a close contender.
Oh wow! And the shortest one? (excluding frogging!)
Once I forgot a friend's birthday. I saw him in the morning and I realised, so over my 1 hour lunch break I crocheted him a quick half-double crochet beanie.
What are you currently working on? Be honest - how many WIP do you have right now?

I only have two WIPs right now. The first is adding the embellishments to Mirabel's skirt, which is a lengthy process. As I can't transport that project very easily due to its sheer size, I am also working on a sweater inspired by the video game Disney Dreamlight valley which has a lot of fun colourwork!
Which of your makes & designs are you most proud of?
It's so hard to choose. While I think I am most proud of Anna's ball gown, all of my friends and family think that Anna's travelling outfit is more impressive.
What is your usual process of designing?
When I have an idea for a design, I draw it out roughly in my huge sketchbook. I work out all the measurements, make a gauge swatch and draw up a purely mathematical pattern. Then I start making the piece and correct it as I go. I have a stack of 2 and a half full sketch books at this point!
What inspires you to design?
Mostly popular media. I really love Disney movies and especially the costume design in Frozen, which is where most of my ideas come from. The reason I make them out of crochet is mostly to prove a point, because once upon a time someone told me I couldn't do it.
You are an inspiration! Thank you for sharing. Any favourite song, book or movie you would like to recommend?
Let's go for one of each. Obviously my favourite movie is Frozen.
My favourite book is "The long dark tea-time of the soul" by Douglas Adams, and is a must-read if you enjoyed the Hitchhiker's Guide series.
My favourite musicians are a group called Arstidir and I can't pick just one song, sorry!
Care to entertain us? Share a funny story that happened to you recently!
This has to be a party princessing story, it's the perfect recipe for silly or embarrassing things to happen. This weekend I was dressed as Ariel at a local library. One little kid starts talking to me and eventually asks me where Ursula is. I imply that Ursula is dead (she is!). The little girl then turns to her grandma and asks her what it means to be dead. Poor grandma had to explain mortality while Ariel just sat there, wishing she could dive back into the sea.
Oh my!

What is your favourite feature on Ribblr?
I love the smart sizing in patterns, it's way easier on the eyes (and the brain) than the old-fashioned way!
Pay it forward - your shoutout to a fellow Ribblr
I'll shout out to the person I first heard of Ribblr from: the Dream Crochet. I absolutely love her vibe and her creations.
Thank you for sharing!
---
Check out Transatlantic Crochet shop
---
Want to read more?
Check out all our previous featured Ribblrs here.
Want to be our next Ribblr of the week and earn a special badge?

Send us a message and be our next Ribblr of the week (plus earn our special Ribblr of the week gold badge​)
---