Hi Ribblrs! Say hey to Kayla (@Kaylacrochetco) of Kayla Crochet Co - our Ribblr of the week!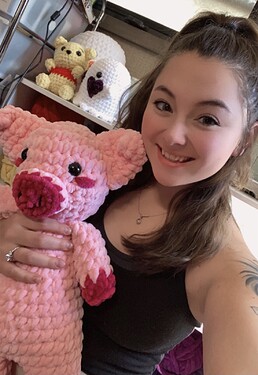 ---
Hi Kayla! Please introduce yourself.

Hi, I'm Kayla. I am 22 years old, I live in Colorado in an RV full time, and I grew up in a military family so I have lived all over the US.
When did you start your crafting journey?
I started crafting at a young age I think around 10-11. My Aunt Connie introduced me to knitting and my obsession of crafting took off from there.
Once I saw how creative everyone was being during quarantine I was super inspired to start creating again because I finally had the time.
What's your favorite craft type?

I absolutely love to crochet it has always come easy to me, so I love to take it and do it everywhere. There are so many designs you can make with crocheting it's hard not to love it.
What's the longest and the shortest projects you ever worked on?
The longest project I worked on was my very first cow design it took me 3 days of unraveling working on one piece at a time.
The shortest project is my mini bee pattern only took about 45 minutes to come up with.

We're excited to know - what are you working on right now?

I am working on coming up with 2 new patterns I want to release within the next few weeks. Possibly a panda and pig pattern.
What's your usual design process?
I normally have a design/ inspiration in my head then I write down what I estimate the pattern to look like, then as I work through it I tweak the pattern to what I want it to look like.
That's awesome! And where do you find inspiration?
The other creators in the community and my family also have amazing ideas.
Now, time for some pop culture! Any favorite movie or song you'd like to recommend?
I absolutely love the movie Funny Face.
What's your favorite Ribblr feature?
My favorite feature on Ribblr is being able to mark off rows as you go along so you don't lose track and have to recount rows as you go!
Finally - the stage is yours. Your shoutout to a fellow Ribblr:
ChoikenCrochet! (@choikencrochet)
Thank you for sharing Kayla!
---
---
Want to read more?
Check out all our previous featured Ribblrs here.
Want to be our next Ribblr of the week and earn a special badge?

Send us a message and be our next Ribblr of the week (plus earn our special Ribblr of the week gold badge🏅)
---
Questions/compliments for Kayla? Share them below!