Please meet this week's Ribblr of the week - Kayla (@kaykrochets) of Kay Krochets!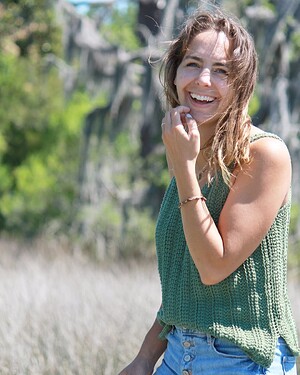 ---
Hi Kayla! Please tell us a little about you

I'm a wife, mom of 2, and Christen. I was born and raised in the Midwest but currently live in Georgia. A few things that make me incredibly happy are: clearance racks, hiking, sunshine, rollercoasters, crafts, and snacking.
When did you start crafting and how?
If we don't count crafts as a kid or art classes in HS and college, I'd say I started in the summer of 2016. I decided to learn how to crochet because I was a bored, pregnant, stay-at-home wife and truly had nothing better to do. (Real deep, I know.)
Do you have a favorite type of craft?
Oh goodness. A favorite?! That's tough. I mean, I obviously crochet more often than any other craft, but I think I enjoy working with clay the most. (Even though I've only played on the wheel a few times.)
How and when did you start designing journey?
To be honest, I really don't remember how I started designing. I only know that I was definitely not qualified to do so since I had no clue what gauge was or how to write a pattern properly! That's me, though. I'm not afraid to fail or look silly when trying something new.
Which of your designs are you most proud of?
Um… All of them? I'll just send you a collage
No, but seriously, if I had to choose 1 make… (Gosh, could you have picked a harder question?!)… I think I'd have to go with… the Driftwood Pullover. No wait! The Sweetheart Sweater. I love the knit look of it and the flattering vertical lines. Not to mention, it's the softest thing ever since it's made with baby alpaca yarn!
What inspires you to design?

I'm not sure if this technically counts as inspiration but I design because I enjoy the freedom. Freedom to choose when and where to place a stitch. Freedom to choose yarn weight, texture, shape, etc.
Do you have a usual process you follow when designing?
Honestly, I'm really inconsistent. Some designs are sketched and planned while others are created while stitching.
What's the most recent project you've worked on?
Ooo! I'm sooooo glad you asked. I just finished up my latest design the Riverbank Tank and I'm obsessed! It's Tunisian crochet and it features a modest V neckline and knit-like vertical texture. It's gawgeous!
Now for some pop culture! Any favorite song, book or movie you would like to recommend?
How about 1 of each?!
Song: Any Man of Mine by Shania Twain has really been making me smile lately.
Book: I'm pretty sure I haven't read an adult book since becoming a mom (except the Bible) so I'm going to have to say The Power of Yet (a short children's book). It's precious and encouraging!
Movie: Where do I even begin?! I LOVE watching movies so I'm listing a few. Interstellar, Tombstone, Pride & Prejudice, Little Women (1994 version), Split, Family Man, any Marvel movies, 7 Brides for 7 Brothers… I could go on but I'm sure that list will entertain you for a while.
What is your favorite feature on Ribblr?
It has to be the smart sizing feature. Stitch counts can already get overwhelming, so "erasing" all of the numbers that don't pertain to you is just amazing!
Finally, pay it forward - your shoutout to a fellow Ribblr

I'd have to say Knitwits and Yarns. He's so happy and a joy to follow on social media. Plus, his patterns are timeless!
Thanks you for sharing your story with us Kayla!
---
Check out Kay Krochets shop:
---
You can find all our previous featured Ribblrs here.
Want to be our next Ribblr of the week and earn a special badge?

Send us a message and be our next Ribblr of the week (plus earn our special Ribblr of the week gold badge🏅)
---
Questions/compliments for Kayla? Share the below!