Say hello to Klara @crocheigh, the designer Crocheigh, and our Ribblr of the week!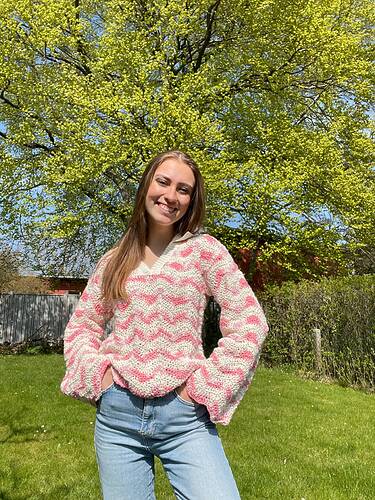 ---
Hi Klara! Tell us a little about yourself.

Hi! My name is Klara, I am 20 years old and from southern Sweden. I am currently at the very end of my gap year, which I have dedicated to working a tech internship and expanding on my most favorite hobby: crochet. I am such a STEAM (Science, Technology, Engineering, Art and Mathematics) girl! My favorite subjects in school are math, physics and programming (I will start an engineering program this fall!), and I spend my free time crafting at every chance I get.
When did you start crafting and how?
I have always been crafty and creative! I learned how to crochet in second grade, while my family lived abroad in Japan. I kept up the hobby for some time, then traded it for another one, and then another one… I have switched hobbies a lot but crocheting is one I always return to! My latest "wave" started during quarantine and I feel it sticking around for a long time. I have a lot of creative people in my family that inspire me, especially on my mom's side – there are silversmiths, photographers, crocheters, knitters, candle- and jewellery makers… It blows my mind that you really can teach yourself anything with the right resources.
And how did you start designing?
I actually have a vague memory of writing some sort of paper on how to make a slip knot, could that count as my first "pattern"? It was something about a tree… and a bunny jumping around it… I'm not quite sure anymore but it made sense to my seven year old self! The biggest factor to me starting designing "for real" was that I had a hard time making other peoples' patterns work for me. My gauge was always too tight, or I wanted to add or change something, so it was easier to just freehand! My first pattern was my strawberry hat. My sister encouraged me to post the pattern despite me thinking that it would flop because there already were multiple out there, but to this day it is one of my best sellers!
That's amazing! Do you have a favorite craft type and if so - why?
Crochet of course! And specifically tapestry crochet. It is the perfect blend between just repeating the same type of stitch and keeping you on your toes. I make all my graphs myself in Google Spreadsheets and it is so fun to see projects work up!
What was the longest project you worked on?
It would have to be a granny square blanket I made some time back for my mom! I had her pick out her favorite colors from my stash and then made a ton of squares over the coming weeks. It was all fun and games until I had all the ends left to weave in…
That sounds like an amazing gift
and the shortest one? (excluding frogging!)
I like making amigurumis every once in a while! I save all my scraps and yarn ends, so once I get too many I spend an afternoon making a little critter and use the scraps as stuffing!
Scrap projects are the best!
What are you currently working on? Be honest - how many WIP do you have right now?

Actually far less than I would like! I like having multiple projects to switch between to keep me inspired, but right now I only have one! It is a prototype for a scarf I'm designing. I have a couple of projects I'm dying to start though, but I am forcing myself to wait so I can take good pictures of the process because I'm going to write patterns for them.
Which of your makes/designs are you most proud of?
Definitely my flower vest! I made it with very thin yarn to make the tapestry crochet very "high resolution", so that meant looooots of stitches. But I am so so proud of how it turned out! The matching beret pattern I made for it is available in my shop
What is your usual process of designing?
Oooo it depends! Sometimes I make a sketch or a prototype using scrap yarn, other times I just… start haha! I almost always jot down notes in my phone, regardless if I am planning on making an actual pattern for it or not, just for my own sake if I want to remake it.
And what inspires you to create/design?
Color! I love mixing and matching shades of yarn from my collection. "Discovering" new combinations of what you already have is such a lightbulb moment! And when you use yarn that's already in your stash it kinda feels like it's free… right?
This is one of the reasons I never would want to clear out my stash or only ever have yarn for the projects I'm currently making, I feel like I wouldn't feel as inspired!
Now for some pop culture! Any favorite song, book or movie you would like to recommend?

My favorite artist at the moment is Swedish singer Veronica Maggio! Her music is quite literally the epitome of summer for me. I recently saw her perform at a music festival and it was incredible to scream-sing her songs together with the rest of the audience.
Care to share a funny or interesting story that happened to your recently?
I recently went to an "illusion museum" with my friends! So there were a ton of photo-ops inspired by optical illusions and weird perspectives. Have you seen that illusion where it looks like you are different size depending on which corner of the room you stand in because the room is all warped and at an angle? That was pretty cool!
What is your favorite feature on Ribblr?
It might just be the unit conversion haha! As a European girlie I have such a hard time visualizing the non-metric measurements, and I know that it is the same the other way around. It is such a small but invaluable detail!
We feel you!

Finally - pay it forward - your shoutout to a fellow Ribblr
One of my favorite creators over on Instagram is Em's wardrobe (@emsswardrobe).
So far she only has one pattern on Ribblr, but it looks so fun and I love everything she makes! Another creator I really like is Emma from Made In The Moment (@MadeintheMoment) I actually was a tester for her Tee Rex shirt and I enjoyed it so much!
Awesome! Thank you so much for sharing
---
Find all our previous featured Ribblrs here.
Want to be our next Ribblr of the week and earn a special badge?

Send us a message and be our next Ribblr of the week (plus earn our special Ribblr of the week gold badge​)