Say hello to our Ribblr of the Week: Loretta! (aka @LorettasLoops)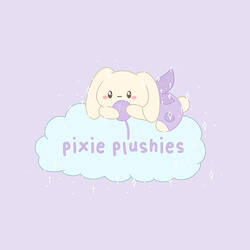 ---
Hey!
Tell us a little about yourself.
HI! I'm Loretta and I'm a high school student from Idaho who loves crochet. I've been crocheting for about a year and I love making cute plushies and designing patterns! I sell my makes and designs on Ribblr, as well as post them on my instagram and tiktok. When I'm not crocheting or doing schoolwork, I enjoy spending time with friends and family and listening to music!
When did you start crafting and how?
A couple of years ago, I was scrolling through pinterest and saw some crochet plushies, and immediately fell in love! I bought some materials from a craft store and watched lots of youtube crochet tutorials. I made and sold crochet plushies and keychains for a while, but quit crocheting after a few months. Last july I realized I really missed it so I started again, and it was the best decision ever! My skills have really improved and my shop has grown a lot, which I'm so thankful for.
And how did you start designing?
I love using other people's patterns and joining their tester calls, so I thought it would be fun to try making my own! My first pattern was a bear in overalls which I released for free on my instagram. People really loved it so I decided to make a cow in overalls, and released it as a paid pattern- I got more support and purchases than I ever imagined, and I absolutely loved seeing people use and enjoy my pattern! I frequently release patterns now and am always working on some design. I can't wait to show you guys the ones I have planned!
That's exciting!

Do you have a favorite craft type and if so - why?
My favorite craft is definitely amigurumi, because I love working with plush yarn and making cute animals. I also enjoy drawing but I don't think it compares to making a 3D plush and being able to bring my ideas to life! I also love being able to crochet things to give to my friends and family; crochet plushies make adorable and inexpensive gifts!
What was the longest project you worked on?
Definitely a flower bouquet that I made recently! It was my first time crocheting flowers and I made 8 of them, which took me at least 10 hours to make in total! It also took me a couple hours to figure out how to wrap them. Although it was a long process, I'm obsessed with how they turn out and I want to make more bouquets asap!
And the shortest one? (excluding frogging!)
Probably my new-sew axolotl pattern! It's very simple and small, and only takes me about 45 minutes to work up. I just released it for free on Ribblr if anyone wants to try it for themself!!
What are you currently working on? Be honest - how many WIP do you have right now?

Luckily I only have about 3 WIP right now- I'm working on 2 more bunnies in overalls, and I'm also designing a new puppy pattern which I'm super excited about!
Which of your designs are you most proud of?
I'm most proud of my baby dungaree cow design! It's been my best-selling pattern since its release and it makes me so happy to see others love it so much. It's also the first pattern I sold so it will always be special to me!
What is your usual process of designing?
I always draw a rough picture of the design I have in mind, and then reference it when I crochet. I usually go through lots of trial and error and have to frog projects frequently, but I always write down notes of what I'm doing as I go, and then transfer them later when I'm happy with the final pattern.
That's awesome! And what is it that inspires you to create & design?
Mainly cute animals and cartoons! Also, when I want to make something but can find a pattern I like for it, I just create my own!
Time for some pop culture!
Any favorite song, book or movie you would like to recommend?
Lana Del Rey recently released a brand new album that I really recommend listening to! She is such an amazing artist and the album is beautiful. My favorite song from it that I'd suggest is ¨Fishtail¨!
It's Monday! Care to share a funny story?
I recently tried to dye my hair brown- my natural color is dirty blonde and I just wanted to go a shade darker to a very light brown. I bought a hair dye color that looked promising, but it made my hair so dark brown that it was almost black. I was panicking, but honestly I fell in love with the way it looks!
What's your favorite Ribblr feature?
I love that I can easily transfer a pattern from pdf to ribblr, or vice versa- I just copy and paste it, and it always turns out perfect and saves me SO much time!
Lastly - the stage is yours. Your shout to a fellow Ribblr!

I would love to shout out SmolbearyStudio! (@smolbearystudio) They're one of my biggest crochet inspirations and favorite accounts ever; their patterns are the cutest and their instagram feed is so gorgeous! You guys should definitely go check out their account and patterns if you haven't already!
Thank you so much for sharing!
---
---
Want more?
Check out our previous featured Ribblrs here.
Want to be our next Ribblr of the week and earn a special badge?

Send us a message and be our next Ribblr of the week (plus earn our special Ribblr of the week gold badge​)