Say hi to Madi (@MadiMadeCrafts) - our Ribblr of the week and the designer behind MadiMadeCrafts!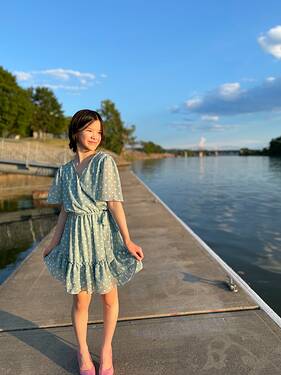 ---
Hey Madi! Tell us a little about yourself.
Hi! My name is Madi, I am 13 and have an I.Q. of 149. I love doing crafts such as knitting, crocheting, sewing, quilting, embroidery, macrame, and tunisian crocheting! I started my crochet business in late march this year and in June my business skyrocketed. My top seller was my crochet bears which everyone loved so much! I am so overjoyed to have found the crafting community as it has changed my life completely and given me opportunities I could've only dreamt of.
It's amazing how skilled you are at your age! When did you start crafting and how?
Aww thank you! I have been knitting for around a year and crocheting for around a year and a half. My mom taught me how to crochet, but I actually wanted to sew but my mom was worried I might hurt myself on the sharp needle so she taught me to crochet instead and I loved it! Ever since then I crochet almost every day.
And how did you start designing?
My parents always encourage me to think outside the box and give me the motivation to be so ambitious, it's part of my personality and I wanted to see if I was able to. I made my first pattern in the beginning of November last year after learning how to crochet within a few months. It just came so naturally to me. My strawberry jam jar was my very first pattern I ever created, and I was so proud and overjoyed! Since then I have made 4 patterns in total, and I have 1 pattern in progress! I'm able to just look at something, create the pattern design in my head and I just put it all together with a pen and paper.
Do you have a favorite craft type and if so - why?
I would say it is between crocheting and knitting, I love them both so much and I can't decide which I love better. I will say, being able to switch between the two styles helps keep me better engaged !
What was the longest project you worked on?
The longest project I have made is the Zosia Wrap Cardigan I made in August! It took me 2 months to finish and was totally worth it! While I was part of this test knit, I was able to communicate my opinion and help the designer with test editing, sizing issues and time management.
And the shortest one? (excluding frogging!)
I would say my shortest project is the donut I made for donut day! It took me only an hour to finish. My mom came home and told me to make a donut because it was donut day, so I did.
What are you currently working on? Be honest - how many WIPs do you have right now?
I am working on the test knit Lakes Pullover by Ozetta in Noonchi Classic DK from @lavenderfiberco. At the moment I have 7 wips, but I am trying to finish them all before starting any newer ones, I like a challenge and I also adore keeping my mind stimulated. It challenges me and also teaches me to manage my time better.
Which of your makes/designs are you most proud of?
I would say the one I am the most proud of is my Duck Sweater vest pattern by @MadeintheMoment
the colorwork was very difficult and tedious to do but I am really happy with how it turned out.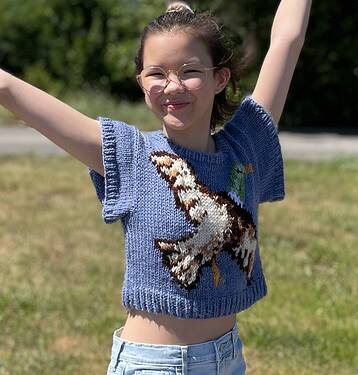 What is your usual process of designing?
I find inspiration to get the visuals in my mind. Then, I start with the base of the design and write everything down as I go, I then work on the smaller details, and attach it all together towards the end. Along the way I take photos and write all of the details rows, stick counts, and then I upload it all on to Ribblr!
What inspires you to create and design?

I would definitely say looking at things that I would want for myself and thinking I could make that. I get inspired constantly. I see everything from an artistic point of view. Which is how I made many of my designs, others are just random ideas I run across. To me anything and everything can be looked at as art.
Any favorite song, book or movie you would like to recommend?
I would say, even though it isn't a movie, Avatar the Last Airbender is my favorite show, along with Legend of Korra. The shows were so exciting to watch and so heartwarming. I have watched ATLA almost 5 times now since I discovered it in June.
ATLA is great!
Care to share a funny or interesting story that happened to you recently?
Well recently I have been trying to save my money and not buy any yarn, but one day I was scrolling on the Sanrio website and found a bunch of cute stuff that I couldn't resist and I spent it all. But I guess I achieved my goal of not buying yarn
What is your favorite feature on Ribblr?
My favorite feature is definitely ribbuild! It is so easy and simple to use especially since making a pattern can be very intimidating, but Ribblr makes it so easy and fun to do and I have made most of my patterns with ribbuild
That's awesome!
Finally - pay it forward - your shoutout to a fellow Ribblr?
I would say @SmolbearyStudio
both sisters make such cute plushies and designs, I have been following their account for about a year now and it was so amazing to see their growth over time. Their patterns are also the cutest!
Thank you for sharing!
---
Check out Madi's shop
---
Want to read more?
Check out all our previous featured Ribblrs here.
Want to be our next Ribblr of the week and earn a special badge?

Send us a message and be our next Ribblr of the week (plus earn our special Ribblr of the week gold badge​)
---