Say hello to Mia (@Minty_Mia) - our Ribblr of the week and the designer behind CreateCalm!
---
Tell us a little about yourself

My name is Mia, I'm 17 years old and have been crocheting and sewing for over 10 years and knitting for about 2 years. I also play piano in my free time, but my true passion is oboe which I've been playing for about 6 years now.
When did you start crafting and how?
I've always been really crafty when I was little, but when I was about 5 I picked up a crochet hook and some yarn at my local craft store. I was self taught with not even YouTube to help me, which is why I did a lot of things wrong at first; eventually I got the hang of it!
And how did you start designing?
I can't remember exactly how I started designing, I was always making up my own designs when I was little because I could never find patterns that were exactly what I was looking for. But I decided to finally to start selling my patterns this year!
Do you have a favorite craft type and if so - why?
Crochet is my favorite since I've been doing it the longest and I feel more experienced in crochet.
What was the longest project you worked on?
The longest project I've ever worked on was on was a bear because I wanted the head to be seamless to the body and the body seamless to the legs. It took me months until I finally got the shape I wanted. I made 5 different bears, I didn't like how they looked so I would learn from the last bear to make the next one look better. The fifth one is the one you see in the photo and my favorite!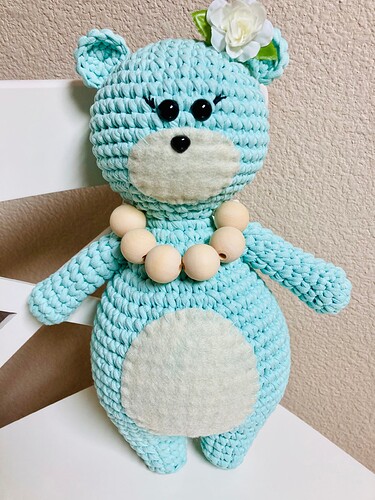 And the shortest one? (excluding frogging!)
The shortest is my plant holder, it works up very quickly with the t-shirt yarn.
What's the most recent project you've worked on?
I just finished a black donut cat yesterday called "Donut Meow" by @ohanacraft, it came out so cute and is perfect for Halloween!
https://www.ribblr.com/journal/Minty_Mia/donut-meow-crochet
Which of your makes/designs are you most proud of?
I'm most proud of my Pablo the Panda design since I worked a long time making him. I wanted to make a panda that looked cute but was simple to make, it took a lot of frogging but was totally worth it in the end!
What is your usual process of designing?
I usually start by making a quick sketch of what I want to make, then I just start creating! I make a first rough draft and then write down the pattern. I go on to make a final draft of my project to make sure the pattern is perfect.
What inspires you to create/design?
The world around me, especially the different places I go since my family and I travel a lot. My pets also have a huge influence on my designs.
Any favorite song, book or movie you would like to recommend?
My favorite books are the Miss Peregrine's Home for Peculiar Children series. I've also recently watched Disney's new Cruella movie and I absolutely love it!
Share a funny story that happened to your recently

I recently made a new friend named Jackson. He's an adorable little kid that knows all the songs and dance moves that the "King of Pop" created. I asked Jackson why he was obsessed with him, Jackson told me that his dads name was Michael. I thought it was so funny how him and his dad were named after Michael Jackson!
What is your favorite feature on Ribblr?
I love the journal feature on here! Seeing the process of people making their beautiful creations is so inspiring and helpful!
Pay it forward - your shoutout to a fellow Ribblr
I'm a huge fan of @crochetmineshop! Her patterns are beautiful and she is lovely to work with!
Thank you so much for sharing Mia!
---
Check out Mia's store
---
Want to read more?
Check out all our previous featured Ribblrs here.
Want to be our next Ribblr of the week and earn a special badge?

Send us a message and be our next Ribblr of the week (plus earn our special Ribblr of the week gold badge🏅)
---
Any questions for Mia? Share them below!