Say hello to Natasha @Loveindy the designer behind Love Indy, and our ROTW!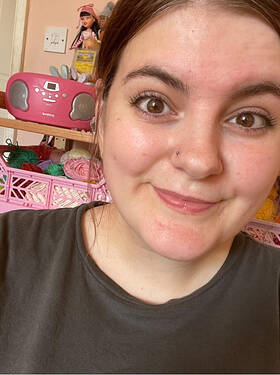 ---
Hi! Tell us a little about yourself.
Hi, I'm Natasha and I'm from the U.K. I've been crocheting for around 6 years now and run a lil business from home full time which just amazes me that I get to do this full time.
When did you start crafting and how?

So, I've always been super into crafting, art especially through my teenage years and creating endless mood boards all over my bedroom walls… but nothing ever really stuck like crocheting. I had attempted to crochet the year before I really got into it, but I was hopeless. It wasn't until I had my first child and I wanted to make a y'know super cute blankets, hats and mittens that I attempted to crochet again and somehow, I managed to do it, yay!
And how did you start designing?
Oh gosh I'm not entirely sure, at the time of my first design I was really into rainbows, pom poms especially and ALL the colours and wanted to make a super cute rainbow scarf featuring pom poms and from there it just happened.
Being super crafty - do you actually have a favourite craft?
For a good while I really LOVED pom pom making and for a good while it's all I really did but within the last year especially I've fallen back in love with crocheting.
What was the longest project you worked on?
Does creating a collection of wall hangings count as a project? Because that took MONTHS of work from planning, picking the colours, designing them and crocheting them all it took so long. I love every minute of it though!
That's awesome! And the shortest one? (Excluding frogging!)
My cute lil flower coasters definitely work up super-fast!
What are you currently working on? Be honest - how many WIP do you have right now?

I am working through a lot of orders atm! So unfortunately, no personal projects but I am planning to hopefully create my first piece of clothing. A cardigan ready hopefully in time for the cooler and obvs very wet English weather months ahead.
What is your usual process of designing?
I usually very poorly attempt to sketch out any ideas I may have on procreate in hopes I can then execute it A LOT better IRL. I love the process of designing, the trial and error of planning out projects and pieces and looking over the progress I've made until I'm completely happy with the finished piece.
What inspires you to create and design?
So, I know this trend might be super played out now but literally anything from my childhood the 90's/00's. I just LOVE that Y2k is a thing, it honestly brings me so much comfort and it really allowed me to develop my own style. A LOT okay maybe pretty much all of my design has cute lil names that related to some of my favourite songs from that era.
We love that 90s and 00s! On that note - any favorite song, book or movie you would like to recommend?
I've really got back into listening to a lot of early 00's pop punk atm, the crocheting and the style I work in has definitely heavily influence that and maybe because I've just turned 30! and everything I love seems like it's all 20 years old all of a sudden. Blink 182, The offspring, Bowling for soup are amongst just a few of my favs atm but more recently I've become fixated on crocheting and listening to music like Parkway Drive, ADTR, Bring me the Horizon especially and Slipknot, it shouldn't work but it does, just proper comfort.
What is your favorite feature on Ribblr?
Honestly I just love the way you can keep track of your progress with a pattern, it's such a handy feature.
Awesome! And finally - pay it forward - your shoutout to a fellow Ribblr
@madeinthemoment - I love the pieces that they create and their confidence. Really inspires me to have a go at creating my own garments.
Thanks so much for sharing!
---
Find all our previous featured Ribblrs here.
Want to be our next Ribblr of the week and earn a special badge?

Send us a message and be our next Ribblr of the week (plus earn our special Ribblr of the week gold badge​)
---
And check out Love Indy shop now​
---