Say hello to our Ribblr of the Week: Rocsa! (aka @LittleRocsa)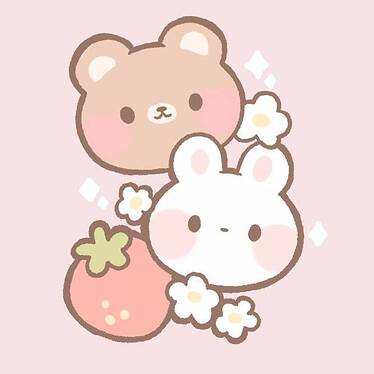 ---
Hey!
Tell us a little about yourself.
Hi there, everyone! My name is Rocsa! I'm a crochet artist from Romania
. I enjoy spending time with myself and indulging in my favorite hobbies like watching movies, playing video games, and of course I can't wait to share a glimpse of who I am with you!
When did you start crafting and how?
About six months ago, I stumbled upon the magical world of crochet and fell head over heels in love! It's all thanks to this amazing community and the talented creators who make it so special. After seeing all the adorable plushies, I just had to try making some myself
And how did you start designing?
As I fell deeper in love with crochet and my skills improved, I felt a strong desire to share my personality with the community. That's why I started designing my own patterns!
That's awesome!
Do you have a favorite craft type and if so - why?
There's nothing quite like crocheting amigurumis with plush yarn! It's my absolute favorite thing to do, and I could spend hours perfecting each little detail. I haven't ventured into other crafts just yet, but who knows? Maybe someday I'll try something new.
What was the longest project you worked on?
I'm a firm believer that the best things come in small packages, and that's why I've always been drawn to creating cute and cuddly crochet amigurumis.
So how about the shortest one? (excluding frogging!)
I absolutely adore making tiny Totoros! I am in love with all Studio Ghilbi movies, but Totoro is my favorite!
We love Totoro!
What are you currently working on? Be honest - how many WIP do you have right now?

I'm currently in the process of designing two super cute patterns that bring me right back to my childhood. As someone who spent countless hours snuggled up in my room watching cartoons, these designs are especially close to my heart. I can't wait to share them with all of you and spread a little bit of that nostalgic joy. So be sure to stick around, you won't want to miss out on these! It may be hard to believe, but at the moment, I actually don't have a single work-in-progress project! I'm someone who loves to take their time and put a lot of care into each piece I create, so I prefer to focus on one project at a time.
Which of your designs are you most proud of?
I put my heart and soul into designing my Sanrio bears, and I must say, they're my proudest creations yet! It took a lot of love and care to bring these adorable little characters to life, but the end result was more than worth it.
What is your usual process of designing?
My creative process usually starts with searching for inspiration and ideas. Once I find something that catches my eye, I'll start sketching out the pattern and making any necessary adjustments. From there, I'll begin the crocheting process, testing out the stitches multiple times to make sure everything is just right. It can be a lengthy and intricate process, but the end result is always worth the effort!
And what is it that inspires you to create & design?
I find inspiration all around me, from the cute things I see online to the objects and scenery in my everyday life. It's amazing how even the simplest things can spark an idea for a new crochet design. I love immersing myself in the world of cute and cozy creations, and I spend hours researching and exploring new ideas. It's a never-ending process, but it's all worth it to create something truly unique and special!
Time for some pop culture!
Any favorite song, book or movie you would like to recommend?
If you're looking for a great book recommendation, I absolutely have to suggest 'All the Light We Cannot See' by Anthony Doerr. It's my all-time favorite book. When it comes to movies, I'm a huge fan of anime, and 'Your Name' is definitely one of my top picks, along with all the classics from Studio Ghibli. As for music, I listen to a wide variety of genres, but I'm currently obsessed with New Jeans. You should check them out!
It's Monday! Care to share a funny story?
Recently, I was in an IT class at UNI, I sneezed and accidentally dropped my phone onto my desk mate's mouse. Unfortunately, this caused her programs to close without her saving any of her work. I don't have any idea how this happened, but I laughed for 30 minutes.
Oh no!

What's your favorite Ribblr feature?
I absolutely adore Ribblr of the week feature, because I can discover great creators that inspire me!
Lastly - the stage is yours. Your shout to a fellow Ribblr!

I'm sure you're already familiar with her, but I just have to rave about @bunnysplush - she's one of my absolute favorite crochet artists! If you haven't had the chance to check out her work yet, you absolutely should. Her designs are simply amazing!
Thank you so much for sharing!
---
---
Want more?
Check out our previous featured Ribblrs here.
Want to be our next Ribblr of the week and earn a special badge?

Send us a message and be our next Ribblr of the week (plus earn our special Ribblr of the week gold badge​)