Say hey to Scarlet (@scarletkashuba) - our Ribblr of the week and the designer behind Scarlet's Stitchery!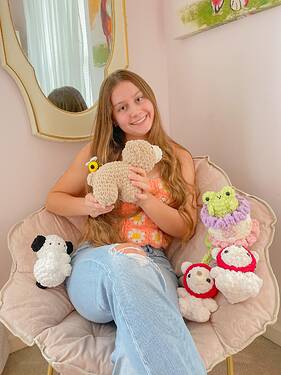 ---
Hey! Tell us a little about yourself.

Hi! My name is Scarlet Kashuba, and I am the creator, owner, and photographer of Scarlet's Stitchery! While handling everything from crocheting and writing patterns, to marketing and managing my business, I am a 17-year-old senior in high school, as well as a figure skater. I've landed my double axel and triple salchow, and I'm a U.S. Figure Skating double gold medalist in moves in the field and senior solo free dance, currently working towards my third gold medal in freestyle.
Ever since I was little, I have loved arts, crafts, and entrepreneurship. In elementary school, I fell in love with crochet, and in eighth grade, I decided to share my love for creating with others by starting my own small business. From school to skating, to crocheting amigurumi plushies and writing original patterns, I enjoy running my own online business in between my busy schedule, and I'm so honored to be on the Ribblr platform with so many other creative people!
When did you start crafting and how?
I taught myself how to crochet the summer following third grade! I've always done many different art forms such as rainbow loom, creating glass magnets, making clay charms, and taking art classes throughout elementary, middle, and high school. I'm currently taking clay! Since crochet allows for so many possibilities to bring my ideas to life, I was drawn to the craft and checked out a bunch of books on crocheting from my elementary school library. I would flip the pages and become so inspired by all of the adorable plushies, so I taught myself how to crochet through YouTube (the best place to learn in my opinion)!
And how did you start designing?
Once I became comfortable reading patterns, I created a few patterns of my own, with one of my first being a little bunny named Beatrice! I'm super comfortable writing patterns for myself to refer back to as I crochet new designs, but I started making patterns to sell last summer. My first released pattern and bestseller is my honeybear pattern which is available here on Ribblr!
Do you have a favorite craft type and if so - why?
Crochet of course, but more specifically amigurumi. I love to crochet plushies, whether they are animals, food, or a combination of both! I've always been in love with stuffed animals and plushies for as long as I could remember, so being able to make my own is a dream come true. Even better is the ability to bring other people's ideas to life through custom orders!
What was the longest project you worked on?
Probably this Jack Russel plushie I made from a Pica Pau book. I usually work with softer acrylic yarn, but this plushie was made in all cotton. The texture of the yarn takes me longer, and the project was something I had to put on hold for a while, finally being able to finish during the lockdown in 2020. He's so cute though and fits perfectly in my room!
What are you currently working on? Be honest - how many WIP do you have right now?

With my back-to-school schedule, I have only had time to work on my orders. I operate as a made-to-order shop so whatever people choose to adopt from my shop I make. Right now I'm in the middle of a strawbeary plushie.
Which of your designs are you most proud of?
My original honeybear plushie and pattern! My business would not be where it is today without the honeybears. Here's a picture of my first honeybear that sits on display in my room!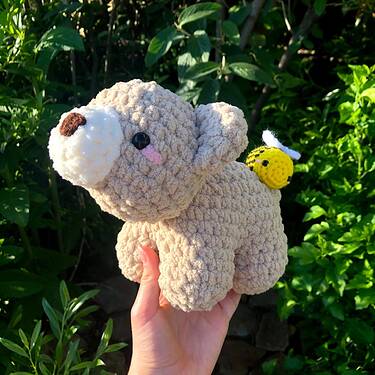 What inspires you to design?
My inspiration really comes from anywhere at any time. Sometimes I see a cute manufactured plushie on Instagram or Pinterest and want to put my own spin on the concept, and sometimes my customers actually request orders that I end up offering in my shop. Usually, my ideas get going at night, so I might come up with a handful of ideas right before bed. The only issue is then I can't fall asleep!
Any favorite song, book or movie you would like to recommend?

Considering I get the bulk of my work done when watching TV with my family at night, I'm going to recommend my top three TV series. I really enjoy Stranger Things, Gilmore Girls, and The Office!
What is your favorite feature on Ribblr?
I love how simple Ribblr makes it to transfer patterns over. I could easily get three of my PDF patterns on Ribblr including pictures. I even had enough time to create a free pattern using their build feature!
Pay it forward - your shoutout to a fellow Ribblr!
I want to shoutout josabella's crochet shop! I adore her plushie style and would absolutely recommend taking a look at the beautiful patterns she offers!
Thank you for sharing Scarlet!
---
Check out Scarlet's shop
---
Want to read more?
Check out all our previous featured Ribblrs here.
Want to be our next Ribblr of the week and earn a special badge?

Send us a message and be our next Ribblr of the week (plus earn our special Ribblr of the week gold badge​)
---