Say hello to Sophia (@vibescrochetco) of Vibes Crochet Co - our Ribblr of the week!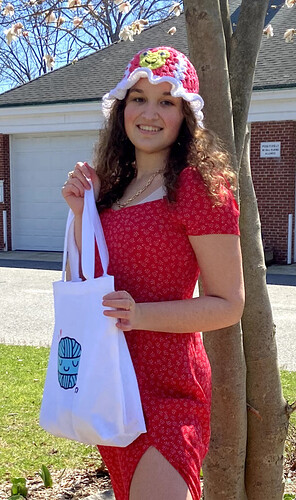 ---
Hi Sophia!
Please tell us a little about yourself.
Hi, I'm Sophia! I'm a 16 year old high school senior from Long Island, New York! I started my crochet business back in July 2020 over the quarantine. Besides crocheting, I'm a competitive dancer and I also play the violin! I've always loved the arts and design, so I'm looking to pursue architecture in college.
That's awesome! When did you start your crafting journey?
I started crafting when I was 10 years old. My interest in crochet came from my aunt (who crochets clothing) and of course, YouTube. I started to watch many amigurumi video tutorials, slowly growing my skills over time. I basically learned how to crochet because of YouTube (I was a very visual learner) and now I might start making my own video tutorials!
And when did you start desigining?
I started designing around February 2020 after I had the idea of turning a Squishmallow cow into a crochet plushie! I had lost hope that I would ever find that cow, so I just decided to crochet one myself. There weren't any crochet Squishmallow patterns around at that time, and for the first time ever, I wrote up my own pattern!
Is it fair to say Crochet is your favorite craft?
My favorite craft type would have to be crochet, although I do have some other crafty hobbies. I love to sew, paint, and draw! I'm a little rusty when it comes to drawing since I've dedicated so much of my time to crochet, but I'll get better eventually!
What is the longest project you've worked on so far?
The longest project I ever worked on was my jumbo (16" tall) squishmallow cow. It took three very long combined nights to finish up that giant masterpiece. As I made it, I was also jotting down a pattern, so it took even longer to create a perfect design.
And how about the shortest one? (excluding frogging🐸)
The shortest project I ever worked on would have to be my rainbow stress balls. I used to sell stress balls in a bunch of different colors and they would take tops 10 minutes each to crochet.
Where do you find inspiration?
I find my inspiration from the crochet community on social media! There are so many talented creators out there, and their passion for design motivates me to create more unique designs!
Now for some pop culture! What are your favorite songs and movies?

My top 3 favorite movies right now are Moulin Rouge, Crimson Peak, and Black Swan. Lately, I haven't been able to shut up about the music in Moulin Rouge and how much I love it. The other 2 have a special place in my heart as well just because they're so spectacular.
I've been listening to a lot of Marina and Lil Nas X songs lately, their new music is just so good! I recommend "I Love You But I Love Me More" by Marina and "Life After Salem" by Lil Nas X.
Any funny story that happened to you recently?
I work at a gymnastics studio and one of the little girls in my class asked if I had Tik Tok. I told her I had a crochet account with thousands of followers and she asked me to make her a bunny plushie. It was pretty funny because she kept asking me to make her a bunch of different plushies throughout the class.
What's your favorite Ribblr feature?
My favorite feature on Ribblr is the track your progress feature! I usually find myself forgetting which round I left off on, especially when I'm reading a really long pattern. This feature allows you to click each line to track your progress! You can cross off a section/round when you're done with it to avoid any confusion!
Finally - pay it forward. Your shoutout to a fellow Ribblr!
I'd like to give a shoutout to @Charliseyscrochetcloset . She is so inspiring and one of my biggest role models in the crochet community. Her perseverance is amazing and I wish her all of the best!
Thank you so much for sharing Sophia!
---
Check out Vibes Crochet Co
---
Want to read more?
Check out all our previous featured Ribblrs here.
Want to be our next Ribblr of the week and earn a special badge?

Send us a message and be our next Ribblr of the week (plus earn our special Ribblr of the week gold badge🏅)
---
Any questions for Sophia? Share them below!