Say hello to Wai (@waicrochets) - our Ribblr of the week and the designer behind waicrochets!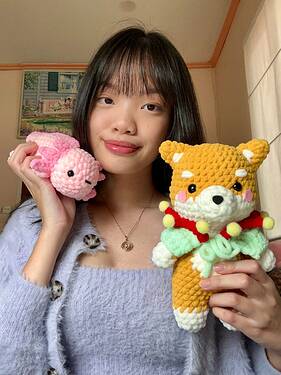 ---
Hey! Tell us a little about yourself.
Hi! My name is Wai, I'm 22 and I come from a small country on Borneo Island called Brunei. I'm currently a civil engineering student in university here and I will be graduating next summer. I spend my free time just playing relaxing games, which is where I get most of my inspiration to crochet characters I adore!
When did you start crafting and how?
I started crocheting 8 years ago, when my friends taught me basic stitches in school. From then, I relied on YouTube videos to help me learn more and improve. I only began to take more interest in my hobby earlier this year.
And how did you start designing?

I stumbled upon this triceratops tutorial video and suddenly had the urge to make one. It made me love creating plushies out of yarn. I made an Instagram account just to journal my makes, then discovered a whole new community for this! I got more inspired to design something, so I started off with something small like my Shiba Sushi pattern, since Shibas are my favourite dogs.
Do you have a favorite craft type and if so - why?
I don't really have a favourite type since I only know how to crochet, so crochet it is!
What was the longest project you worked on?
My BMO plushie took such a considerable amount of time (probably 20+ hours) since it has so many intricate details.
And the shortest one? (excluding frogging!)
The shortest project (about 20 minutes) is the baby froggy by @Jadrian!
What are you currently working on? Be honest - how many WIP do you have right now?
I am currently working on my Shiba plush, but a Christmas themed one! Honestly, I have too many WIPs right now since I can't always concentrate on one thing. Maybe like 10? Haha oops
Which of your designs are you most proud of?
I would say my Minecraft inspired axolotl! It's quite simple and quick to make, and lots of people loved it.
What is your usual process of designing?
Sometimes I sketch out a rough idea on my iPad. Once I have a clear idea, I just grab my hook and start a lengthy process of trial and error. I type out any possible patterns on Notes from start to end, then refine the pattern again by remaking that plushie.
What inspires you to create/design?
I get most of my inspiration from my favourite things, animals or characters from games and animated shows.
Any favorite song, book or movie you would like to recommend?

I'm currently on my second reread of the Throne of Glass series by Sarah J. Maas, so for any fantasy lovers out there, I highly recommend that book series!
What is your favorite feature on Ribblr?
I like how I can have my patterns in all of my devices which makes them portable. I also like the interactive feature to just cross out a part of the pattern along the way, since I always forget which row I'm on.
Pay it forward - your shoutout to a fellow Ribblr
Here's a shoutout to @avery_and_co They are the sweetest and kindest person I've met in this community, and their works always inspire me to create too
Thank you for sharing!
---
---
Want to read more?
Check out all our previous featured Ribblrs here.
Want to be our next Ribblr of the week and earn a special badge?

Send us a message and be our next Ribblr of the week (plus earn our special Ribblr of the week gold badge​)
---