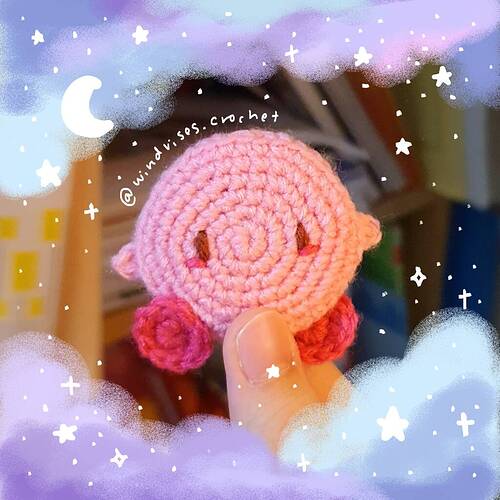 ---
Hi! Tell us a little about yourself.
Hi everyone, I'm Zoe! I'm a neurodivergent creator from Malaysia. I turn 20 this year and I'm currently doing A-Levels, hoping to do neuroscience or linguistics in the future! When I'm not crocheting, you can find me watching anime/reading manga, drumming, in a swimming pool or on a camping trip.
When did you start crafting and how?
I started because of my mom! She loves anything arts and craftsy, and she's really skilled in crafts that require an eye for detail. When I was young, we would always find something to create over the school holidays. I still remember this Christmas-themed miniature living room we made together using a DIY kit when I was seven. I learnt crocheting half from friends, half from Youtube a long time ago, and picked it back up again sometime in 2021.
And how did you start designing?
To be honest, I started designing as a means to keep myself interested in crochet. I have a tendency to drop hobbies after a while so I tried to motivate myself by making crochet into a game with "levels". I started from making an Instagram account (@windrises.crochet) to display my creations, then doing pattern tests, then attempting to write patterns myself. After my first design (the birb cube cake), I learnt a lot and realised that I like the challenge of creating something from scratch. It's like a puzzle that keeps me constantly engaged and excited to start new projects.
Do you have a favorite craft type and if so - why?
So far it's got to be crochet! I like how versatile the craft is. Once you get the hang of it, it doesn't require much brainpower and I can crochet in class to keep myself from fidgeting. It's also compact and easy to bring anywhere, you just need a ball of yarn and a hook to start crocheting. It's both sustainable and affordable!
What was the longest project you worked on?
Probably my Sanrio Teddies pattern. It took me a long time to get the body proportions right but I'm happy with the end result!
And the shortest one? (excluding frogging!)
My bear cube loaf! i finished designing and writing down the pattern in just a few days, which is uncharacteristically fast for me.
What are you currently working on? Be honest - how many WIP do you have right now?

I'm currently working on designing new patterns! As for the amount of WIPs… I've lost count.
Which of your makes/designs are you most proud of?
I freehanded this Crazy Slots (from Hunter X Hunter) pin a while back and I still think it's my magnum opus.
What is your usual process of designing?
I usually start by finding a reference photo and sketching out modifications, then it's over to my yarn stash where I dig for colours that work well together. After that it's just crocheting, frogging and taking pictures (sometimes shedding a tear or two). I'm big on proportions and shapes, so I spend a lot of time redoing parts until i'm satisfied with the end result.
What inspires you to create and design?
Usually it's cute pictures of plushies on Pinterest but I also get inspired by certain colour combinations or palettes that interest me.
Now for some pop culture! Any favorite song, book, or movie you would like to recommend?

"Piranesi" by Susanna Clarke and "The Submarine At Night" by Chen Chuncheng are two of my recent favourites! I'm currently reading "Babel" by R.F. Kuang.

For Studio Ghibli or Makoto Shinkai lovers, I suggest checking out "Summer Ghost" and "Summer Wars"! They're both incredibly underrated movies.

"Spring Thief" acoustic cover by Saku on Youtube (original version by Yorushika) is the song I wake up to every morning.
What is your favorite feature on Ribblr?
Definitely the edit yarn colour feature in Ribbuild, I love how it automatically highlights the colours in the pattern. It's just a small detail but it's really helpful!
Pay it forward - your shoutout to a fellow Ribblr
@tinybunnycrochet and @eggsnfloof are insanely talented, please go check them out!
Thank you for sharing Zoe!
---
Want to read more?
Check out all our previous featured Ribblrs here.
Want to be our next Ribblr of the week and earn a special badge?

Send us a message and be our next Ribblr of the week (plus earn our special Ribblr of the week gold badge​)
---