Say hello to Joanna (@joellacrafts) the designer behind Joella Crafts, and our Ribblr of the week!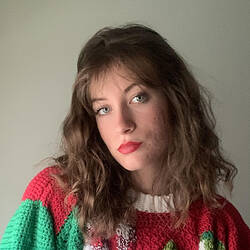 ---
Hi Joanna!
Tell us a little about yourself.
My name is Joanna Cosentino and I'm 21 years old! I'm currently studying to be an English teacher for high school students and I love helping people as much as I can. I have two sisters and an adorable dog. I love spending my free time watching my favorite shows, reading a good book, being creative, and getting some iced coffee
So, when did you start crafting and how?
I started crocheting in August 2020 but as a kid I used to love to draw clothes. My sister learned how to crochet in February of 2020 and after seeing all of her gorgeous creations, I wanted to start a business. Once I created the Instagram page for the business, I started learning how to crochet and I haven't stopped since.
And how did you start designing and writing your own patterns?
At first I made crochet plushies but I realized that it wasn't a true passion of mine. As a kid I used to draw and design clothes and I think that passion is what inspired me to start designing crochet clothing. It was intimidating at first but my third crochet top ended up becoming my first pattern. Since then I always loved to come up with my own colorful and child-like designs—an homage to my inner child.
Is Crochet your favorite craft type?
I would say crochet is definitely my favorite craft. Although I do enjoy drawing and painting, crochet has been the only hobby that has truly stuck and quite honestly taken over my life (in a good way). It really allows me to stay in the present moment and helps me to express my creativity in a tangible way, which I think is amazing.
That's fantastic! What was the longest project you worked on?
The longest project I've worked on is one I'm still working on—my first throw blanket. I started it last year and I still have A LOT more to go so my goal is to finish it by the end of this year. It's made of a lot of scrap yarn with granny squares so it will definitely be the most intensive project I've worked on so far.
Can't wait to see it! And how about the shortest one?
I think the shortest project I've worked on is velvet scrunchies! They work up super quick and probably take me 15 minutes total to finish.
How many WIPs do you have?

Currently I'm working on my throw blanket, a short sleeve tie cardigan, and a spiral bucket hat!
Which of your makes are you most proud of?
I think my favorite design was a scrap yarn cardigan I made and my strawberry vest! Here are some pics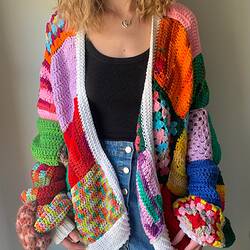 What inspires you to create?
I think being able to create something one of a kind that I made from my own hands is incredibly inspiring. It's the creative process and figuring it out like a challenge, and when it comes together it's so fulfilling. And seeing people wearing something they made with my pattern makes me so happy and makes me want to keep thinking of new ideas that more people can enjoy.
Time for some pop culture! Any favorite movie, song and book you would like to recommend?
My favorite song right now is The Spins by Mac Miller. It's such an upbeat and happy song and it always makes me feel lighter. My favorite book is definitely The Alchemist by Paulo Coehlo, I've read it three times and I'm sure that I'll read it many more times in my lifetime. I've also just finished reading Solar Storms by Linda Hogan and it was incredible. I also just started The Good Place and it's an awesome show on Netflix.
Please lighten our day! Care to share something funny/interesting from your life?
Recently I was hanging out with my sister and her boyfriend and I was cleaning our rug. When I finished I asked them, "Doesn't it look so much better?" Both of them, without even looking up from their phones and laptops, said yes at the same exact time. I told them both of you said yes without even looking up and we all burst out laughing!
We'd love to know: what is your favorite feature or design on Ribblr?
My favorite design on Ribblr is definitely the Luna Mountain Sweater by Granola Gear! It really inspires me to keep practicing knitting so I can create an awesome sweater like that!
Finally, pay it forward - your shoutout to a fellow Ribblr

One of my favorite creators on Ribblr is HayHayCrochet! Her designs are so amazing and easy to follow, she always comes up with something amazing all the time
Thank you for sharing Joanna!
---
---
Want to read more?
Check out all our previous featured Ribblrs here.
Want to be our next Ribblr of the week and earn a special badge?

Send us a message and be our next Ribblr of the week (plus earn our special Ribblr of the week gold badge​)