Say hello to Maria (@Letodolls) - our Ribblr of the week!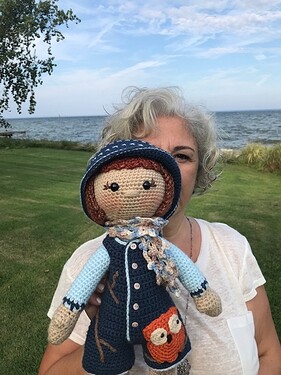 ---
Hello Maria! Please tell us a little about yourself.
I am a language professional from Spain who that does crafts for enjoyment, stress relieve and when possible, for the benefit and enjoyment of others.
That's lovely! When did you start crafting?
I started crocheting and knitting at a very young age, during a time when very few media options were available for entertainment. I owe most of what I know and my passion for these craft to a loving neighbor that often took care of me.
And how did you start designing?
I remember starting by making clothes for my dolls when I was a little girl, I enjoyed the design process and playing with the dolls afterwards. Recently, I started making amigurumis for my nephews, nieces, and friends´ kids. When my youngest niece started playing with dolls, I decided to crochet several dolls as a Christmas gift for her. My family encouraged me to go deeper into designing patterns.
Do you have a favorite craft type?
I know the fundamentals for sewing, by both machine and by hand, however, one of my sisters is much better than me in this craft. I especially enjoy knitting and crocheting. However, lately I am enjoying crocheting the most.
What's the longest project you ever worked on?
The largest project was some afghans, the second several knitted sweaters, and the third the 24 inches dolls.
Oh, wow! And the shortest one?
The shortest some of the amigurumis that I made for my nephews, nieces, and friends' kids.
What's the most recent project you've worked on?
The most recent project that I finished is Pippa, a 24-inch-tall doll with a removable dress that has a granny square motif. I also have another new 24-inch boy doll, Quique.
Which of your designs are you most proud of?
That's hard to decide because every project feels special to me under the circumstance during which it was created. I only work on one project at the time. For example I make several afghans during a time when we were living in a "fixer upper" with very drafty windows. My sisters' liked my afghans, so I made one for each.
Your family members are very lucky

What is your usual process of designing?
For the dolls, I first decide the main idea or doll theme. Afterwards I choose a color palette and a feature or stitch that will differentiate the new doll from the others, however, every design evolves during the process.
And what inspires you to create?
Sometimes the smallest thing, seeing in the store a yarn color that that strikes me, a suggestion from a family member, a picture or theme that I think could look nice crocheted….
Time for some pop culture! any favorite song, book or movie you would like to recommend?

I enjoy several types of genres. Now I am enjoying La nueve: los españoles que liberaron Paris , in general I prefer historically based works. I like movies inspire emotions in me, like laughter, for example Meet the parents. I am also partial to music hits from the 80s and 90s. Go figure…I am in my fifties
What is your favorite feature on Ribblr?
Apart from the progress tracking, I appreciate the opportunity to gift a pattern and the community aspects of Ribblr.
Finally, the stage is yours - pay it forward with a shoutout to fellow Ribblrs!

There are several people in the Ribblr community who have been very generous in volunteering to test my patterns, such as @Cookie898, @JADENNIGHTWING, @Gator, @HookedOnCotton, @Beatrix and the Ribblr team in answering all my questions in a very timely manner. Kudos to the Ribblr community!
Thank you for sharing Maria!
---
Check out Maria's shop LetoDolls:
---
Want to read more?
Check out all our previous featured Ribblrs here.
Want to be our next Ribblr of the week and earn a special badge?

Send us a message and be our next Ribblr of the week (plus earn our special Ribblr of the week gold badge🏅)
---
Share your questions or compliments for @Letodolls below!