Say hey to Megan (@Meganfaithmakes) the designer behind Meganfaithmakes, and our Ribblr of the week!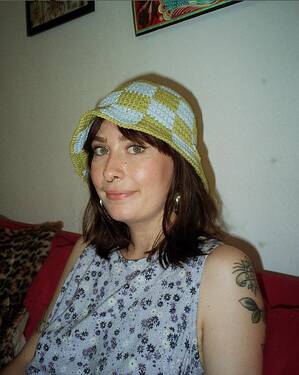 ---
Hi Megan! Tell us a little about yourself.
Hello, my name's Megan. I'm 24 and living in Brighton, UK. I currently work part-time in a chocolate shop alongside running Meganfaithmakes, my small business selling crochet and knitwear, that I started in lockdown 2020.
That's awesome!
When did you start crafting and how?
My mother taught me to knit when I was around 7 years old. At the time I enjoyed knitting toy animals and scarves, I then stopped throughout my teenage years and picked it up again when I was 22. I taught myself to crochet via YouTube in 2020 after being inspired by some amazing crochet artists on Instagram, and now thoroughly enjoy both mediums.
And how did you start designing?
When I got back into knitting in my 20s, the only thing I was knitting at the time were socks (mainly presents for family members), which I kind of made up as I went along until I refined the pattern. This was mainly because I couldn't find a sock pattern on the internet I liked the look of, so I had to make my own. This then inspired me to start designing other things such as jumpers, tops, hats, bags (crochet as well as knit).
Do you have a favorite craft type and if so - why?
This is a constant battle in my head! I love crochet and knitting for different reasons. I love how quick crocheting is, especially if using thicker yarn, I can make a jumper in a day. I also find it easier than knitting. However, knitting has a special place in my heart and I just love the way it looks. I go through phases of preferring one to the other, but overall I can't decide between them!
Fair enough!
We'd love to know - what was the longest project you worked on?
Hard to say! I've knitted a few jumpers which have all been quite time consuming. I'd say the longest one was probably the 'Jazzy Sweater' by Wool and the Gang x Linmick. So many ends to sew in!
And the shortest one? (excluding frogging!)
The quickest project would have to be the crochet checkered bucket hats I make. I've made a lot in the last year and can probably finish one in less than 2 hours now.
What are you currently working on? Be honest - how many WIP do you have right now?

I'm currently working on writing a summer crochet skirt and top co-ord pattern. I've never made a skirt before and I'm really enjoying it. I'm ashamed to admit I probably have about 20 WIPs (I'm one of those people…).
Which of your makes/designs are you most proud of?
I'm most proud of my MFM Sweater Vest. It was my first design (after socks) that I felt was really wearable. It's simple so can be easily paired with anything. It was also the first pattern I wrote so it will always have a special place in my heart.
What is your usual process of designing?
This is also a hard to answer question as I wouldn't say I have one process of designing that I stick to. When inspiration strikes I usually just pick up my needles and start trying to make what's in my head. This is also the reason I've got so many WIPs, I start making something and then lose steam with it if it's not going how I imagined, so I'll just tend to leave it for months and then eventually frog it.
With that in mind - what inspires you to create and design?
Mainly all the extremely talented people I follow on Instagram. I find it incredible how many people there are worldwide putting out amazing crochet and knit designs. I'm also really inspired by 90s sitcoms such as Friends and Sex and the City, the womens' wardrobes are amazing. I also love 60s/70s crochet.
Any favorite song, book or movie you would like to recommend?

Clearly I was born in the wrong era because I'm a big fan of 70s/80s music. Fleetwood Mac has always been a favourite band of mine, it's hard to narrow down one song but I love The Chain.
Share a funny story that happened to your recently
I was in Portugal last week with 2 friends, and on the 2nd night we decided to go out for some cocktails. We were sat outside feeling rather merry and talking a bit too loudly about things we shouldn't have been for a good 10 minutes, when a man on the table behind us said 'excuse me ladies I noticed you're speaking the same language as me, can I ask you a question?'. Eek!
What is your favorite feature on Ribblr?
I love how interactive the patterns on Ribblr are, I think the best feature in my opinion is the fact you have the option to view your size only. Very helpful!
Pay it forward - your shoutout to a fellow Ribblr
@Sweeneystitches ! A fellow Brightonian and an amazing crochet artist.
Thank you for sharing Megan!
---
Want to read more?
Check out all our previous featured Ribblrs here.
Want to be our next Ribblr of the week and earn a special badge?

Send us a message and be our next Ribblr of the week (plus earn our special Ribblr of the week gold badge​)
---