Say hey to Rachel (@helleborecrochet) the designer behind HelleboreCrochet, and our Ribblr of the week!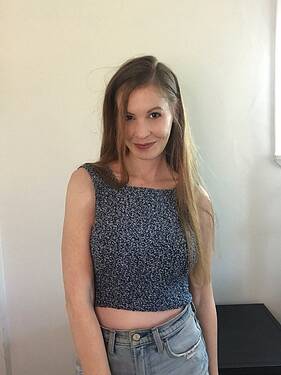 ---
Hi Rachel! Please tell us a little about you.
Hi! My name is Rachel. I live in Southern California and love warm weather, beaches, and sunshine.
When did you start crafting and how?
I grew up learning how to do various types of crafts. My grandma was a very skilled sewer and painter. She handmade a lot of my dresses when I was younger. My grandpa was skilled at woodworking and made a lot of our furniture. They both taught me different elements of their crafts. I also tried out knitting and crocheting around sixth grade but I was terrible at both. Everything I tried to make ended up the same: a pile of knots.
I began to feel really sick in 2018. I was regularly dizzy and nauseated, and I had difficulty breathing. I tried crochet again to give myself something to do. This time, somehow, I got the hang of it pretty quickly! Then I was diagnosed with cancer in 2019. As I received treatments, the US began to close down due to the pandemic. Crocheting was one of the few activities I could physically do (and could somewhat afford). I began to crochet constantly!
And how did you start designing?
I designed my first top in Summer of 2020. I'd tried out several (beautiful!) patterns from some of my favorite designers and discovered that none of them fit my chest area. It was enough of a problem that I had difficulty wearing my tops. I began to explore different ways of shaping the stitches in those areas to fix the issues I was having. These experiments led to all of my bralettes!
Do you have a favorite craft type and if so - why?
Yes—crochet! Mainly because it's the only one I'm any good at right now (haha!).
What was the longest project you worked on?
The first dress I made! I was proud of it at the time, but it had issues. I've since frogged it to repurpose the yarn.
And the shortest one? (excluding frogging!)
My Hot Cocoa Bralette in size 6 yarn! The super bulky yarn makes that project fly by. I find them kind of addicting to make.
What are you currently working on? Be honest - how many WIP do you have right now?

My current focus is on my Juliette top. This is actually the very first design I created! My first attempts weren't scalable for different body types. I've managed to improve enough in the past year to be able to revisit the design. I'm really looking forward to completing the pattern for it. For WIPs… I think I have 8.
That's impressive!
Which of your designs are you most proud of?
I'm normally the most proud of whatever my most recent design is! Right now, it's my new and improved version of Juliette.
What inspires you to design?
I'm obsessed with vintage lingerie and vintage lace. I particularly love the Edwardian era of clothing. The handmade lace from that time is breathtaking. I enjoy studying the different construction methods they employed (such as in their corset: the stays plus the way they created their straps. Or for their corset covers: the combination of buttons and ties they use to create an adjustable final piece). I'm currently working on some designs inspired by those pieces. They use size 30 or size 10 crochet thread, so they are taking me quite a long time!
Time for some pop culture! Any favorite song, book or movie you would like to recommend?

Whereas by Layli Long Soldier and Moon: Letters, Maps, Poems by Jennifer S. Cheng. Both are books of poetry. I find them incredibly beautiful and thought-provoking.
Can you share a funny or interesting story that happened to you recently?
I've begun collecting Pokémon cards! My sister and brother-in-law recently visited with her three children (7 yo, 5 yo, and 2-month-old). The two boys are obsessed with Pokémon. They've both given the 2-month-old several Pokémon cards to start her collection (LOL. It's so cute). The 5-year-old had just had a birthday and received a bunch of Pokémon cards as a present. When he found out that his baby sister had more Pokémon cards than I did (I had zero), he was horrified. He gave me a whole bunch before they went back home. It was so sweet! He wants to be able to trade with me when we see each other. So now I'm buying Pokémon cards, haha!
That is so sweet! (where is that Pikachu emoji
)
We'd love to know - what is your favorite feature on Ribblr?
The ability to see only your size when following a pattern! It makes the patterns so much more enjoyable to follow.
Pay it forward - your shoutout to a fellow Ribblr

The Moule Hole! (@TheMouleHole) I'm super excited to create her gorgeous Magdalena Jacket for my baby niece!
Thank you for sharing Rachel!
---
---
Want to read more?
Check out all our previous featured Ribblrs here.
Want to be our next Ribblr of the week and earn a special badge?

Send us a message and be our next Ribblr of the week (plus earn our special Ribblr of the week gold badge​)