Hi Ribblrs! This week we are delighted to introduce you to Sabrina @stitchingwithsab, a talented designer who was chosen to be our Ribblr of the week!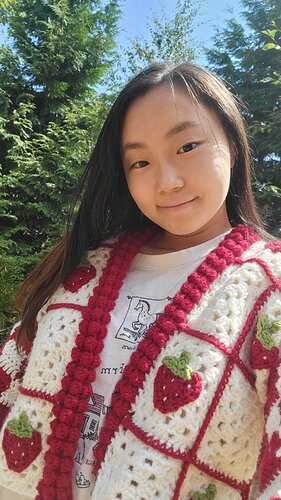 ---
Hi Sabrina! Please tell us a little about you.

Hi! I'm a 19-year-old, Korean-American student studying engineering at University! I grew up being a crafty kid, so I grew up hand-sewing and making polymer clay charms before I started crocheting.
When did you start crafting and how?
I started crocheting 5 years ago after coming across the crochet blog "Amigurumei" and some amigurumi videos on youtube. Amigurumei's crochet patterns were too cute to resist, so I immediately raided my mom's crochet hooks and yarn stash and went to town on it.
We can definitely relate! And when did you start making your own designs?
Despite crocheting for years, I didn't start designing my own patterns until March of this year when Ribblr reached out and asked if I wanted to create patterns on the platform. I then created my first pattern, merry the mushroom, and as of today, I have created 13 patterns!
What is your favorite thing to make?
In the crochet community, I mostly make amigurumi plushies because I'm a plushie kind of gal, but I've recently started to branch out and make hats and cardigans.
What's the longest project you've worked on yet?
The longest project I've ever worked on was a puffy flower cardigan that took me a week to finish. It could've taken longer if I took more breaks, but I was really on a time crunch back then, which meant losing my back sometimes.
How about the shortest one? (Excluding frogging
)
The shortest project I've ever worked on was a mini mushroom keychain that took me about 40 minutes to finish!
And what's the most recent project you've worked on?
My most recent project was an adorable chef frog plushie! I was lucky to be able to test out a chef frog pattern for @vibescrochetco !
Which of your designs are you most proud of?
Out of all of my patterns, I'm most proud of my Peaches The Shiba pattern! This pattern really tested my patience as lots of frogging occurred while designing that pattern. I actually got really frustrated with myself for not being able to get the head and body shapes just right. Overall, I'm very happy and satisfied with the final design!

What inspires you to design?
A lot of my pattern designs are actually inspired by art created by other artists. Their art styles often influence my designs, like how I proportion certain body parts on my amigurumis. My designs are also influenced by trends like the cottage core trend on TikTok. I'm also a sucker for anything related to frogs and mushrooms.
What is your design process like?
My design process is honestly very spontaneous. Sometimes I plan ahead and sketch out designs while other times I just go straight to the yarn and immediately start crocheting. Sometimes my brain is filled with endless ideas for patterns while other times it feels like my brain is just an empty void. My creativity comes and goes which can get frustrating as a creator, but I've just learned to be patient with myself.
Any favorite song you would like to recommend?

My current favorite song is a song by FLETCHER called "Healing". It's really soothing to me, and it kinda acts like a letter to myself when I'm going through a rough period.
Share an interesting story that happened to your recently

I recently went on a trip with my friends to a small remote island, and when it was dinner time we decided to try and find an Asian restaurant to order take out. Well, we could only find one Asian restaurant near us with only a 3/5 star rating, but we decided to head there anyway. When we got there, the building looked abandoned and was weirdly painted bright, banana yellow. Inside the atmosphere of the restaurant was very sketchy, and even though we only waited for 15 minutes for our food, it felt like an hour with how suffocating the atmosphere was. When we got our food, the food was wrapped in an "Anime World" plastic bag and once we started eating we realized they just served us over-priced microwave food. Yeah, it was a mediocre but fun experience.
What is your favorite feature on Ribblr?
I love being able to strike out rows on Ribblr while I go through a crochet pattern. It's super helpful when tracking rows as it prevents me from repeating or skipping a row.
Finally, pay it forward - your shoutout to a fellow Ribblr!

I'd love to give a shoutout to @curiouspapaya on Ribblr! She's super friendly and has some of the most well-made patterns out there! I highly recommend her patterns to anyone looking for some easy-to-read patterns.
Thank you so much for sharing Sabrina!
---
Sabrina's patterns are so cute - it's no wonder they are in 1000+ wishlists! Check out her shop:
---
Want to read more?
Check out all our previous featured Ribblrs here.
Want to be our next Ribblr of the week and earn a special badge?

Send us a message and be our next Ribblr of the week (plus earn our special Ribblr of the week gold badge🏅)
---
Comment below with your questions and compliments for @stitchingwithsab !