72 hours only to get these amazing bundles at a special $9.99 price PLUS a chance to win $25 worth of yarn!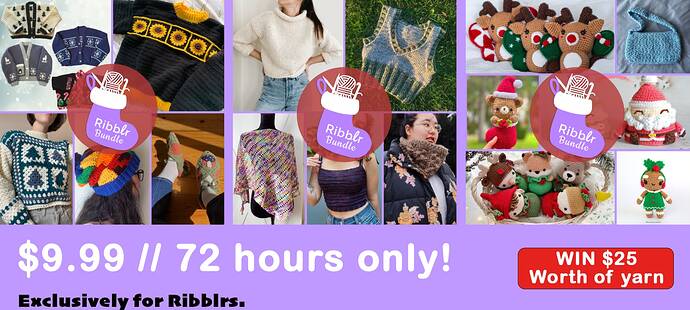 ---
Ultimate Knitting bundle
Winding Way Cowl by @Pandalandcrafts, MixTape by @rhyflowerknits, The Blair Sweater by @MadisonMarie, Erudite Vest by @granolagear and Division Tank by @Wonderlandknots!
5 unique knitting designs by incredible designers. Buy now for just $9.99
---
Ultimate Winter Bundle
Gingerbread Helpers by @LemonYarn, Chino the Christmas Bear by @kelvencrochets, Christmas ornaments by @Rnata, Reversible Christmas by @chibiscraft, The Oopsie Daisy Purse by @crochetbyak, Butterfly Reindeer by @Knotbadcrochet.
6 popular crochet designs by 6 talented designers! Buy now for just $9.99
---
Premium Winter Bundle
Harry Styles Cardigan Beanie @joellacrafts, Mushroom slippers @nastjacrochets, Snowed In Pullover @JustTheWorsted, Sunflower Sweater Pattern @myagkocrochet, Autumn Olive Holiday Cardigan @autumnolivecrochet.
5 wintery crochet designs by brilliant designers! Buy now for just $9.99
---
Get into the gift-giving spirit with our special holiday bundles!