Hi ! I need testers for my Mens Argyle Sweater Vest Crochet Pattern - Crochet ePattern
Click pattern photo to apply: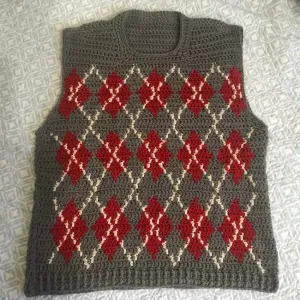 The pattern has a lot of color changes, and uses a color chart. Available for mens sizes small thru 5X, please comment below and let me know what size you'd like to test and indicate whether you've used a chart before. Crocheters of ALL skill levels are welcomed, including beginners, even if you have not used a chart before! The pattern gives instructions for the colors in the photo (gray, red, white) but if you want to use different colors that's no problem, just note that you'll have to adjust the colors accordingly, Please use worsted weight yarn. I'd love to have testing completed within 4 weeks but if you need more time I'm happy to work out a comfortable timeframe with you. Communication is a priority! Testers will be chosen within a day or two. Thank you so much!