I need testers for my Finnigann The Fuzzy Owl - Crochet ePattern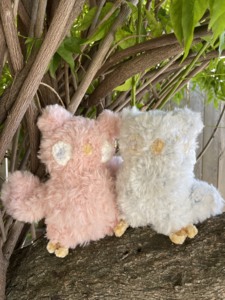 As much as I hate to crochet with fuzzy yarn…
I would risk it for testing finnigan.
Would be happy to be one of your testers, super cute!
I adore this fuzzy friend, and would love to test, but might not have the time. What is the anticipated testing period, if you don't mind me asking?
Thank you, I would love it if you would be one of my testers! I just sent you the pattern. I set the deadline for July 1. Let me know if that deadline works for you.
Thank you! I'm setting the deadline to July 1. would that work for you?
Oh yes that works just fine!
Yes that would work for me

Thank you
Great! I will send you the pattern!
Omg I love owls! I would definitely love to test if you still need testers
Thanks! Yes, I am looking for a few more testers!.
Great! Then I would love to test for you. Just let me know the details
The deadline is July 1. Let me know if that works for you! The supplies I used are listed in the pattern. If you have anymore questions let me know!
They're adorable!!
I'd love to test, I have fuzzy yarn as well