I need testers for my Puzzle Me Scarf - Crochet ePattern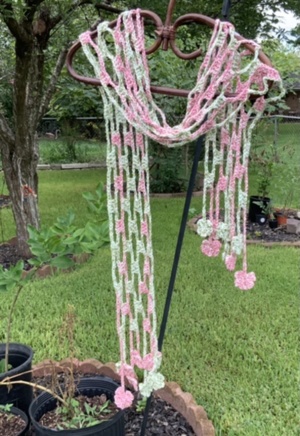 Hi! I'd love to test this but I'd need some more information first - what weight yarn and approximate yardage needed, and if there is a deadline for the test
Hi, the yarn I use is #4 weight cotton, DK would work as well. I'd like to release the pattern in by the end of Aug, so there is time.
Thanks
Sandi
Hi again, you also asked for approx yardage, I used a little less than 150 yards.
Sandi
Hi, thank you for getting back to me! I have 4 weight acrylic yarn, does that work? If so I'd like to apply to be a tester.
Thanks,
Nini
I designed this for spring/summer wear, that is why I chose cotton but acrylic works the same. There is a multitude of #4 weights acrylic and believe me not all are created equal. If you have an acrylic that is on the thin side, I would go with that or even a DK weight.
I'll add you as a tester and you will get a notification when the pattern is in your My Pattern library.
Please add a journal entry with your progress
Add 1 or 2 photos of the finished piece
Any ideas for improving the pattern and constructive feedback is welcome.
And finally, thank you so much for helping me out, it really is appreciated.
Sandi