I need testers for my Stinger The Bee

Can add as soon as you apply!
Ideally would like testing to be completed in a week (9/14/22)
Would like feedback on ease of pattern (what level of skill do you think it should be categorized as) along with any writing errors.
I am also going to try and make a youtube video for this and would like feedback on the video as well.
Supplies you will need and some optional supplies you may want to have:
Yarn worsted weight (medium weight) in 3 colors
¹Yellow – 5 yards
²Black – 3 yards
³Gray – ½ yard aka 18 inches
⁴White (optional if not using tulle) – 4 yards
Two Sizes of Hook
E (3.50mm) Hook
D (3.00mm) Hook
Scissors
Tapestry needle
Stuffing (poly-fill)
Optional Supplies:
Safety eyes 4 to 8 mm or Google eyes (would also need adhesive to apply these if not self-sticking)
Squeaker – size 35mm / 4cm
Tulle – approximately 14"x 2" piece of material
Needle and Thread
KeyChain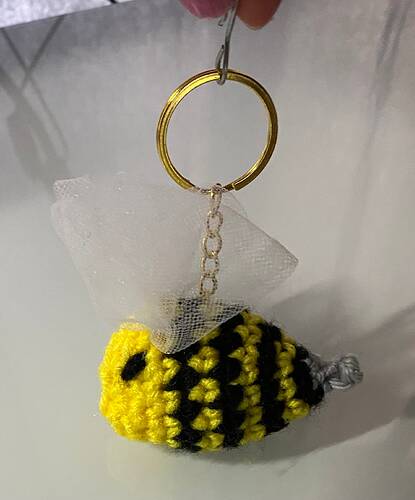 Crochet ePattern

Thank you for taking the time to look at this post!