I need testers for my Vincent van Goat - Crochet ePattern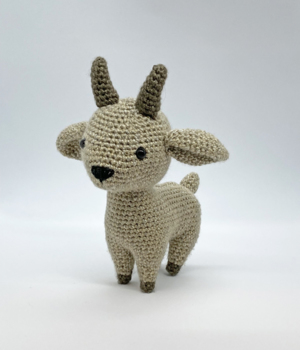 Hi everyone, I'm looking for 2-3 experienced Ribblr testers to help me test Vincent van Goat. I'm still fairly new to Ribblr, this is only my 2nd pattern, so I'll probably need a bit of help with any features that I'm not using, or tips on how to make the pattern easier to use on Ribblr. Please check for any abbreviations that are not on the list or not explained, typos and grammatical errors, along with feedback on any clarity issues or errors and omissions.
Time frame: 2 weeks from receiving pattern
Material required: about 120 yds of worsted weight yarn in main color, 20 yds in dark color, and a bit of black for the nose. Polyfil Stuffing and Poly pellets or any other items you use to weigh down the body, (2) 9mm safety eyes (or alternative methods for the eyes)
Note on the poly pellets: On my first attempt, the head outweighs the body and it tiped over. The poly pellets helps weigh the body down. Please indicate whether you're using pellets or not and let me know if you have issues with tipping over.
Skill Level: There are some unusual joining techniques used, so intermediate level is preferred.
Please keep a journal and show finished photo of your goat.
Thanks!