I need testers for my Sweater Pattern! - Crochet ePattern
Click pattern photo to apply: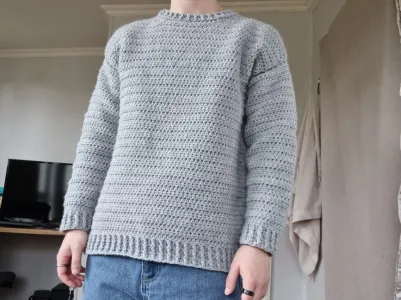 There are six sizes available, and I mainly want to check that the sleeve lengths and neckline height are good!
Required gauge: 7 stitches x 6 rows = 5cm
For this I have used a 5mm hook. The yarn weight shown in the picture is 12ply, however I have tested the gauge with 10ply and 8ply as well, and they all look fine. So weight is up to you, as long as gauge is correct. You will also need a smaller hook (I've used 4mm) for the ribbing. Size xxs is shown in picture.
Sizing information:
To measure where the length will sit on you, put your tape measure right at the top of the highest point on your shoulder.
Sizes (Chest): XXS, XS, S, (M, L, XL) 88, 96, 102, (106, 112, 118) cms around
Sizes (Length): 60, 62, 68, (70, 72, 74) cms long
I am currently unsure of the yarn amounts, but I used about 600g for XXS and I would estimate up to 1000g for XL.
Journal is ESSENTIAL!!
Since this is quite a large project, you'll have until November 30th 2023 to complete (approximately 6 weeks). I will require regular updates from you please!
Please comment with what yarn you'll use (colour and weight), and the size you'll work with!! I'd love to see some pretty colours
Upon completion you'll receive the final copy of the pattern for free! Any questions let me know, I'm also on instagram (@silverfishcrochet).