I need testers for my Trophy Cable Hat - pattern-Knitting ePattern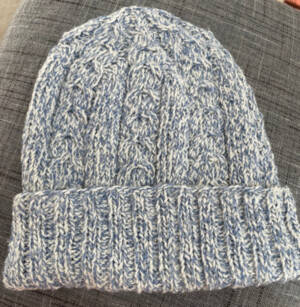 Welcome. I do not knit myself. Good luck with your test.
Is it good for a beginner? What is the deadline please?
I would say that it is good for a confident beginner knitter. It is a great beginning cable pattern. The cable is very simple.
So what do I mean by "confident beginner"?
You need to know the basics like, knit, purl, slip stitch, and decreasing stitches (K2tog and P2tog).
You should have an understanding of how to knit in the round and are comfortable using circular needles and double pointed needles. Double pointed needles are needed for at least the last few rounds to close the crown of the beanie. I like to use circular needles for as long as possible, especially with cables. I just don't have to worry as much about dropped stitches as I do with double pointed needles.
Deadline 2-4 weeks. I am flexible if that does not work out well for you. I found that it knits up quickly, but everyone works at their own pace. I am not a fast knitter and I have to take frequent breaks. So, sometimes projects take me longer to complete than others.
That sounds perfect! I am definitely slower but I have used the skills you mentioned except for cables but if it's a good introduction to it is be happy to test
I prefer circular needles as well and will use them over any other if I can! But I do have a good assortment of dpns and circ
Thank you. I added you as a tester. Let me know if you can't access it or if you have any questions.
I'm all done! You can check out my journal but I didn't find any issues
Thank you so much for testing the pattern.
It was a pleasure
I would love to test this!
I added you as a tester. Let me know if you have any questions. Thanks!