Hi! I am looking for test crocheters for the pattern for my Lazybird Sweater.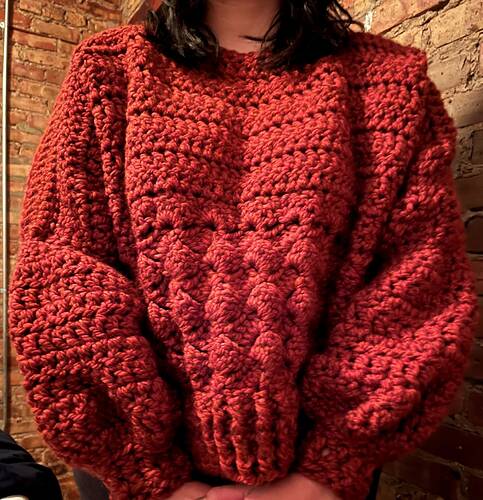 I need all sizes, ranging from XXS to 3XL! The pattern is highly customizable (it's majorly based directly on your own desires and measurements, so it's open to all sizes) and is meant to be entirely size inclusive, and the test will be run primarily over Instagram (my handle is @vijetha.creates), email and Ribblr! You can reply here to 'apply' to test (The questions are at the bottom! Please make sure to answer them if you're interested, via the replies OR in DMs, whichever you prefer!), but you can also just fill out the form in my Instagram bio without commenting here, as it's open to everyone. Feel free to DM (again @vijetha.creates on IG) or email me (vijetha.creates@gmail.com) with any questions!
Testers must:
be able to read crochet patterns
be at least at an intermediate level at crocheting or comfortable with customizations
take at least 3 well-lit photos (at least one flat lay and one worn)
have a public Instagram account that they post crocheting on (can be any type - does not have to be primarily a crochet account, but I must be able to see previous works)
commit to the time frame (will be 1 months - from January 23rd-Feb 23rd; pattern is set to be released at the end of February or beginning of March)
Materials needed:
9 mm hook (size M or 13)
Weight 6 super bulky yarn (should be a max of 800-900 yds, unless you want to make it longer).
Questions:
What is your preferred name and your pronouns?
If you are able to post on Instagram, please include your @ here (must be a public account that you are able to post crochet work on). If you are unable to post on Instagram, please indicate that you can and will post directly on Ribblr!
What level crocheter are you? (Beginner, Intermediate, Advanced)
What size would you like to test for?
Are you okay with me sharing pictures of your work on my Instagram and Ribblr?
Do you want to test either (or both) the Ribblr or pdf pattern? (If pdf, I will DM and ask for email!)
If you have any questions, comments or concerns, you can reply with them or DM me!