Your notes are far neater than mine!
This is some of the notes for the next batch of slippers I have coming this weekend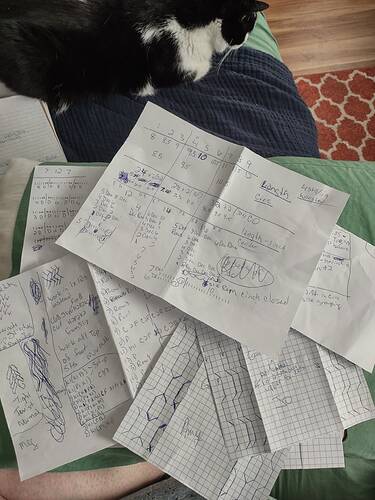 and that might be a leg… or raw chicken lol
Funny!

CAT
boop the nose!
If you were here, Munchkin would like for you to know that he has never been held in his entire life and is absolutely starved for affection.
Then Poppy would chime in with telling you that they are also starving because they have literally never been fed and the food is right there!

I know the struggle too well
I used to have 3 kitties. My senior's catch phrases were: "Nobody loves meee", "Nobody feeds meee", "Nobody cares for meee".
And me telling him: "wow that Nobody you're talking about is a very caring human, I oughta learn from them
"
That was only for the YouTube pattern i was writing done. I keep exercise books
and sticky notes are great lol