That's a lot of yarn! Mine are in clear plastic containers under my desk where I crochet and a little cubbie where I place my extra tool
I have yarn stored in 3 closets (trying to get it all into one, but I have had to move it 3 times now and each move has yet to be completed before it was moved again
)
But my "workspace" is the sofa, so I have a mess next to the sofa (in the corner between the sofas) where it's safe from baby
So pretty. Love the florals!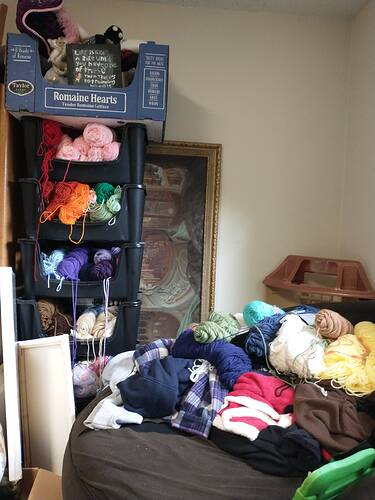 This is my mess right now! Ugh​
Not including the 7 or so skeins of yarn upstairs next to the couch. I don't sit in this chair, hence the sweaters and yarn that needs to be put away.
So great to have a work station! I did have a craft room but now have to use the room for something else so right now it is all over the place, mostly under the bed! Can't wait to have my own little spot again
Pioneer women has taken over my house COMPLETELY
Hahaha!!! I thought it looked like a familiar pattern
I wish mine was half as organized.
Maybe a slight exaggeration…
Yeah my craft room turned into a nursery within months of setting up, then a room for my brother shortly after she was born
It's a shelf currently above my kids head. All those hand prints on the wall are him trying to get at the stuff up there. My tools are in those little boxes. Yarn that's not being used this moment is in the closet.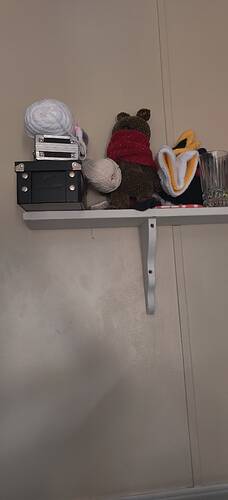 He's going to get tall enough before you know it!
He recently figured out how to get things down using a toy.
So jealous of all your craft rooms! At the moments mines just jumbled boxes in room as I crochet on my bed lol hope to one day have a space like this!