my favorite is DEFINITELY a manatee!
As much as I love cats, I have to say tarantulas are my fav. They are very misunderstood and I would love to have one as a pet.
Despite what most people think there are plenty of tarantula species that are really docile and make wonderful pets. There are also lots of species that are just so pretty!
They are basically just living pet rocks lol!
They are also incredibly easy to take care of and don't require a lot of maintenance to keep their enclosures clean.
They are amazing pets and I wished more people gave them a chance or tried to at least understand them more.
Tldr: I love tarantulas and they aren't as mean as people think.
I love dolphins
turtles
birds
fish
crocodiles
koalas
Kangaroos
wombats, emus and penguins and loads more
I love cats! But I also love elephants, dolphins, jellyfish, and cheetahs, whales, turtles, and tigers. I have a lot of favorite animals.
I love cows!!! Cows are the most precious and innocent creature for me!!
I also love elephants!!! They're so adorable and smart
I like the fluffy highland cows
I love beluga whales too! Ever since I was a kid and learned the "Baby Beluga" song! But I also love sharks and frogs, I know it's a weird mix lol
Frogs are so cute but up the Belugas, I love belugas
Alpacas have got really pretty faces they could models I don't really know much abt ferrets I knoe there was a ferret in kindergarten cop and it was sooo cute I like there lil feet.
I love Flamingos! They are goofy-looking, have hooked beaks that they use to filter feed, and they dance a mating dance in a big crowd!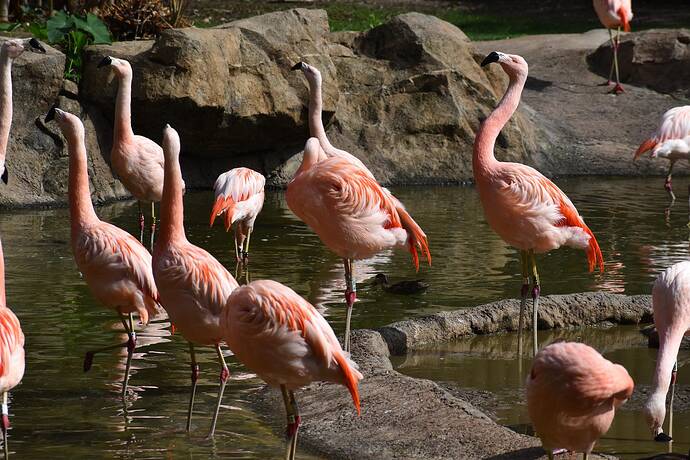 ferrets are pure joy in a fur coat, they are like kittens that never outgrow the kitten stage, but they are very expensive to care for and totally unable to take care of themselves should they get outside, they also tend to get into more trouble than you can shake a stick at which frequently end up in a vet visit which is expensive, so when you can't be around to play with them they must be in a roomy cage. But they were my pet of choice ;). Unfortunately they are prone to cancers as they get older, and they generally only live about 5 years. :(.
Do dinosaurs count?
i love bears tho!!!
I have a tattoo of a bear head haha. And i like goats, sheep, and cows. Fav marine animal has gotta be a shark or an octopus
Awww!! Mine are polar bears!
Polars are so cute I like the Ice bear from we bare bears he is a polar bear as well
YES! He's hilarious
I love the way he speaks "Ice bear can't bear to be without my frostyfluffs"
Yes! Have you seen we baby bears??