That's beautiful!!!
Thank you! I just signed up, so I'm still learning my way around. Love it so far!
this pattern is by crochetingallday it is so cute🫐🐻

That's so cute!
i finished another baby flax sweater and a charity hat. working on the comfort shawl and a hat for my granddaughter and those two will now be priorities, but another baby flax will be in the works soon. a. knitter's life is never done
.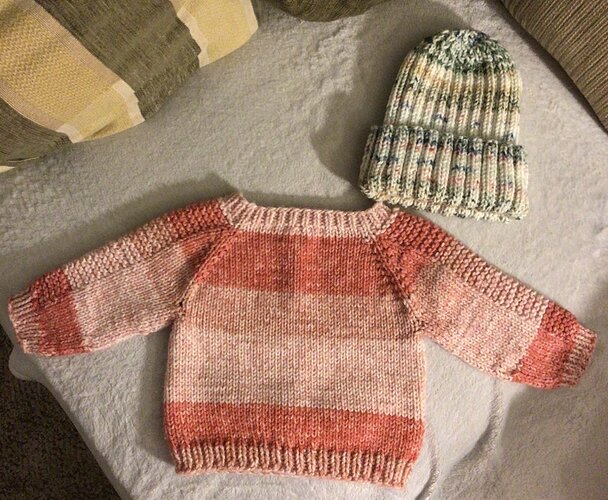 that is wayyyy better than I could make. Love the colours of the jumper
I love that!
it's the Flax pull over by Tin Can Knits, the pattern is a top down so after the yoke, you put the sleeves on a holder and continue knitting the body and then go back and pick up the sleeves. Everything is knit in the round so no seams to sew up! It's a free pattern. The yarn I chose, Yarn Bee, Soft and Sleek, stripes by Hobby Lobby does most of the work as it is in stripes, i only have to do some color management on the sleeves, so the yarn makes it look like I did all the work ;p.
Wow…… do you have any suggestions for non scratchy yarn for a cardigan from the brand Katia? Or yarn that is available in Europe? Also stuff that won't break the bank
i am not familiar with that brand of yarn. if you have any "big box" (could be any big store that also carries yarn, Here it would be Hobby Lobby, Michael's, and Joann's.) You can see if they have something. Also these stores also sell online… i prefer wool yarns, but for the baby things I use a synthetic blend because most (not all) don't have the time or knowledge to care for wool.
hi, this is my latest finished project. Made this top with adjusting the pattern of the lost souls shawl, a tutorial on youtube (the lost souls blanked), and a little bit of my own inspitation.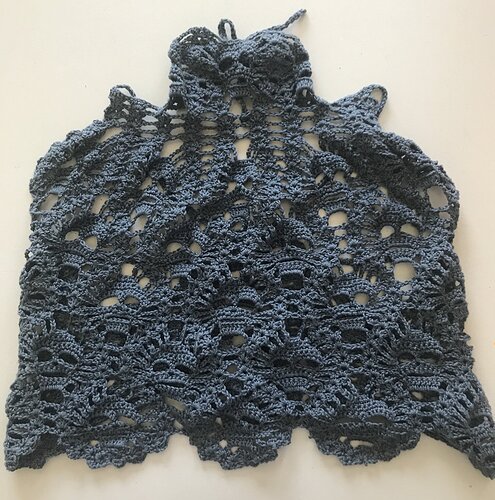 my latest finished object is another flax baby sweater. Have decided that I'll be doing plain but pretty colors from here on out instead of this lovely stripe colors, because the last two sweaters I knit (have to do color management on the sleeves) i ran short of one of the colors on one of the sleeves. will be less work weaving in all those ends and less stress worrying about the color using a non stripe yarn.