Hey Ribblrs!
Today we've got a very special Ribblr of the week and an announcement. (full interview below)
Say hello and a big congratulations to Vincent (@Knotbadcrochet), who's joining Team Ribblr as our new Chief-Marketing-Officer!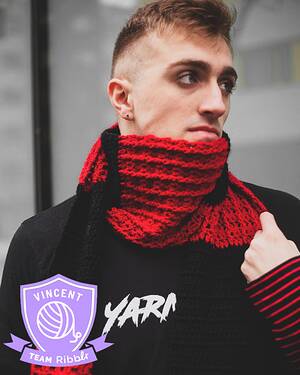 Most of you probably know who Vincent is (considering he has nearly 1M followers!) - an amazing crochet artist, founder of Knot Bad, and a self-proclaimed yarn punk.
Vincent is a natural fit for Team Ribblr, as he's been promoting crafting for years, making sure it is more inclusive and accessible for everyone.
The Knot Bad journey is continuing and will be enhanced by Ribblr. So you can expect exclusive patterns and more surprises

And with Vincent on the team you can expect even more exciting collaborations, unique content and innovative features from Ribblr in the near future. Particularly this June…
Scroll down to read our Ribblr of the week interview. Vincent will be available in the comment section below so feel free to drop him a message!
---
Welcome Vincent!
Please tell everyone a little more about you.
Hi! My name is Vincent Green-Hite and I am the crochet artist behind @knot.bad and creator of @yarnpunk - I have a heavy focus on amigurumi and would describe my style as kawaii metal. I design my own patterns and for my exclusive projects, they can now all be found on Ribblr!
So when did you start crafting?
I started crafting at the late end of 2015 (In August) right before my 21st birthday. I had just made the decision to drop college to try and figure something else out and I was pretty miserable at my job so I also dropped that! I was looking for some sort of hobby to feel good about and crochet had always been something I was interested in - 6 years later and I'm still going strong! Besides that, I had never been artistic or a crafter before. (Unless you count playing Minecraft)
And when did you start designing your own patterns?
I started designing my own patterns about 6 months after learning how to crochet! I knew after my first ever project that designing was a goal of mine. However, I didn't feel confident in my ability right off the bat so I told myself that I would follow patterns for a while until I could understand how shapes worked when working 3D. I am so fortunate that there are so many amazing designers who were offering free and beginner friendly patterns on their blog (AllAboutAmi and 53stitches come to mind first) Thanks to them, I want to pay it forward to help people get into it, which is why I now offer my patterns for free on my blog as well.
You have such a huge passion for Crochet and Amigurumi in particular. What makes it so exciting for you?
I think it's a pretty universal feeling to feel excited after creating something from scratch and by hand! Especially when it's an original design, crochet definitely has that effect. When it comes to amigurumi, it's being able to have a tangible item in my hand when it's finally done. I wouldn't say I am naturally talented when it comes to the craft so it's always pretty validating when I can accomplish a new design that was challenging to put in my portfolio. It's a great feeling to know that it's MY design that I hope other people can identify as my style! Finding my own style has been very important to me. Along with that, the verbal affirmation from my readers is always something I look forward to as well.
What inspires you to create?

My readers inspire me! If I didn't have an online presence, I'm sure I would still design for the sake of cresting for myself, but I just love the feeling of being able to offer something to someone to make. It's a really wholesome feeling to see someone want to replicate your energy. I have a ton of ideas and if I didn't have my crochet in my hands, I would probably be chewing my nails so this is a big win for me. Finding a great show, movie, podcast, or album really inspires me because I feel like it's an even better use of my time. (Which you should be able to enjoy hobbies without feeling guilty regardless)
We hear there's a new exclusive Ribblr design coming soon… Can you give us a teaser?
As of now, my paid for patterns will now ALL be exclusively on the platform! But I have one coming out in mid June that's more in the realm of fantasy and food, I always love seeing how I can make a fusion work. I'm taking a food name very literally for it!
We can't wait!

What are some of the biggest challenges today for crafters and designers?
I think being a designer is especially difficult because that usually entails some sort of monetary or growth goal in mind and with the Internet being so busy and always trying to make the algorithm happy, it can be a bit disheartening at times. In the early stages, finding a style that's uniquely yours can be a lot of trial and error. As for crafters - there are so many amazing designs you can follow even for free and a ton of free resources to help you. I think what might be the most challenging to crafters is just finding the right place to look for inspiration or a community - but Ribblr fixes that!
With that in mind - what excites you the most about Ribblr?
The most exciting part about Ribblr for me is just the hidden potential of the platform. For being such a young company, they have already added so many quality of life improvements for crafting that I didn't know the common person was missing. I feel we are stretched thin on all these other platforms. It's hard to remember what all we've seen so having a central hub for it all sounds very nice. I was most excited to learn there was an app for it especially! Being able to have interactive patterns and a library for all the patterns is a huge incentive. And I can't forget dark mode! Being behind the scenes now, there's years worth of features to be excited about.
Time for some pop culture - 2 quick questions & 2 quick answers​
We know you are a huge fan of Pokémon. Which is your favorite one?

This is a very loaded question - been playing for over 20 years and still don't have the "one". Some honorable mentions are Gengar, Jirachi, and Charjabug!
What's your favorite song or artist?

My favorite artist is Bring Me the Horizon. My favorite Album is Lost Isles by Oceans Ate Alaska. I don't have a favorite song but the song that reminds me the most of crochet is Youth by I See Stars!
Lastly - the stage is yours.
Pay it forward - your shoutout to some of your favorite Ribblrs!
As I am still discovering so much amazing creativity on the platform, I am so far loving the patterns I see from:
@mrsmoonheaven
@stitchingwithsab
@curiouspapaya
@khookcreations
@thedreamcrochet
Thank you so much for sharing Vincent!

Thank you! I look forward to help and show everyone all the amazing features Ribblr offers for the #craftingrevolution !
---
Check out the Knot Bad shop and say hi to Vincent in the comments below!
And watch Vincent's announcement on his Youtube channel: