Anybody here like to crochet with thread & make amazing things?
I think it is very cool, I would encourage you to do more items with thread.
I haven't finished what I started making. I suppose I should probably finish it someday
Thank you
Used to, but can't see what I'm doing anymore.
Oh I hear that! I press on and get stronger cheater glasses. Rest my eyes with the big girl hook and 4 weight yarn.
Made a few things, my latest is trying to get a super tiny octopus.
Got this far, will try smaller
Eta;": this is super thin cotton, technically not thread
This is with the doily / embroidery thread, but I messed up the legs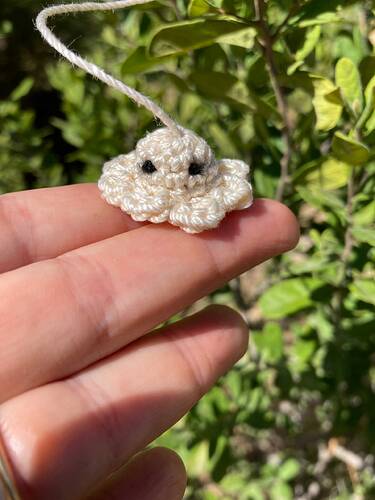 That is tiny you have better eyes & dexterity than I. Good job!
The eyes are giving in and so do my hands,… but I can still do one or teo
Me too but it is my 1st love!
Well. Alright, @TexasPurl , since you showed me that I'll just enter the pit of despair……

This is a stunner, I can aspire but have not made anything so detailed, lovely job.pineapple hearts gorgeous.
I want to make one but haven't got there yet
Gorgeous
Not me over here admiring everyone's thread work! My RA doesn't like the tiny hook or thread… And before that got really bad, I just couldn't seem to figure out the tension… Which is a but weird to me as thread is the only thing that I struggle with tension
I have the same problem, the smaller the hook, my tension gets too tight.