Our new feature drop has just landed. Scroll down to learn about all our new features and improvements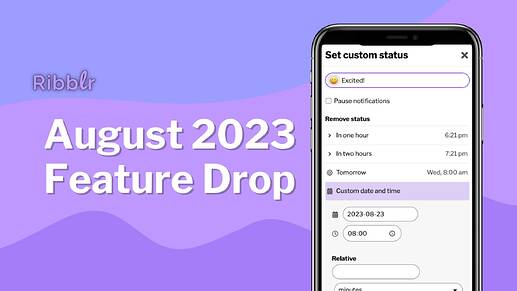 ---
Your personal status
We're excited to roll out a beta for Status - a new community feature.
Keep your friends and other Ribblrs in the know by updating your status regularly.
Click the 'set custom status' button using the menu, choose an emoji and type in your status.
You can remove status manually or set the duration of the status. You can also pause notifications for as long as the status is active.
For example set a 'Sleeping' status with
emoji, check the 'pause notifications' box and set it to be removed in 8 hours time. (or 6, or 10- we're not judging!
)
Statuses will appear next to your profile name & photo on posts you make, chat messages and on your profile. Clicking or hovering over the emoji status will show a status text!
---
Threads in chat
It's been almost a year since we first rolled out our Chat feature.
We're working on new improvements for it, and we're excited to introduce one of them - Threads.
Because chat tends to be fast-paced it's sometimes hard to keep up with a conversation on a specific topic.
With Threads, you can simply start a thread within a chat.
This is what Threads look like (shout out to @LittleCreatures and @CosmikEluminatedC!)

You can also click the Threads icon to see all active threads.

---
Checkboxes
Check out our new markdown features for community posts and messages. Use the following to add checkboxes to your posts:
Type [] to create an enabled blank checkbox
Type [x] to create an enabled checked checkbox
Type [X] to create a disabled checked checkbox (cannot be unchecked)

Here are a all three checkboxes:

---
Tag improvement
You can now use the # character to tag spaces, tags, and chat rooms!
---
Public journals when testing (improvement)
Public journal notes will now only be displayed to the designer and the tester while the pattern is being tested.
---
Even more…
~ You can now report makes that violate our policies directly from the make page
---
In case you missed it… our previous feature drops
Did you try Shareables yet?
Check out all our previous feature drops!
---
What's your favorite new feature?
Vote for one or many!
Personal status
Chat threads
Something else (post below)