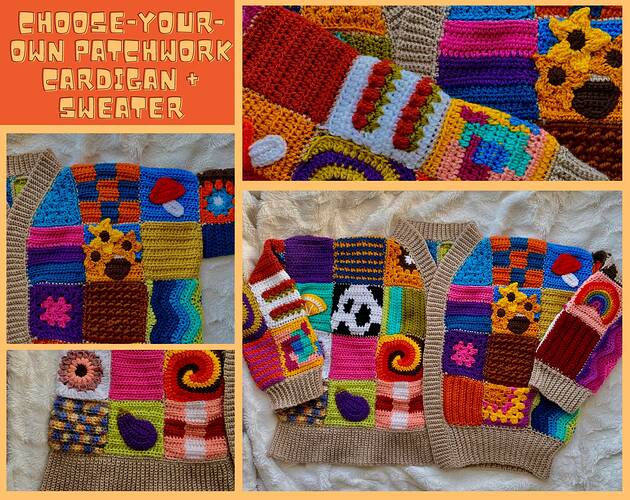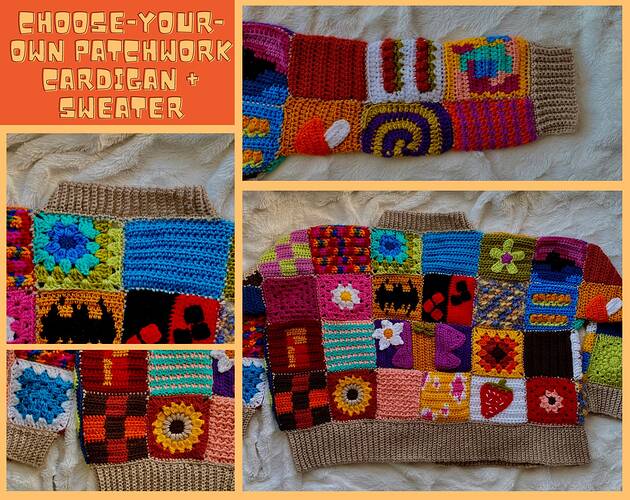 I'm currently finishing up the pattern for this super cute patchwork cardigan, and I'm looking for some pattern testers! I created this cardi inspired by many of the patches I made for a huge blanket that I never got to finish. I really wanted to use some of the patches, though, so I adapted them into this hehe.⁠
⁠
The pattern includes instructions for 30 different patches, some of them being traditional granny square patches, others being popular patches like the spiral and checkered patches. Others use appliques that you sew on top of them or colorwork designs (my favorite is the Van Gogh-inspired sunflowers patch hehe).⁠
⁠
The pattern is a made-to-measure pattern, which means it provides detailed instructions to figure out how many patches you need to create the length and width of your choice. The pattern also includes instructions to make either a cardigan or sweater version, so ideally I need some testers to help me test the cardigan instructions, and others to test the sweater instructions!⁠
⁠
The best part is that you will be free to pick and choose whichever patches you want to use for your own project, so no two projects will be the same! It's a real choose-your-own-adventure cardi/sweater lol.⁠
You will need at least 2000 meters (500 grams) of light-worsted weight yarn, and a 3.5mm hook. This is how much I used for my version (for reference, my bust size is 36" and I usually wear S/M).⁠

All skill levels are welcome, but experience in reading patterns is ideal!⁠

Testers must be able to complete the cardi/sweater, provide constructive feedback, and pictures of the finished top by April 1st, 2022.⁠⁠

Testers will be added in an Instagram group chat along with the rest of the testers and myself so that testers can all get information at once, and it allows testers and me to communicate. As such, testers will ideally need an open Instagram crochet account.
⁠⁠
If you are interested in testing the pattern, comment on this post stating which version (cardi or sweater) you'd like to test, and I'll contact those interested with the application form! The form will give testers more information about the testing phase, and it will provide me with some necessary info (email to send the feedback form, etc.).
The testing call will be open until February 20th, 11pm (EST). I will get back to the chosen testers on February 21st
⁠⁠