helloo, i'm new here !! hope make some friends and see your pretty projects <3
Ello I see u have followed me

Also sanrio is great
Hello! I hope you enjoy it here, congrats on your first post
if you ever need help never hesitate to ask in the community, if you need immediate answers feel free to use the help center, search in the community, or the wiki [link below] and community guidelines if needed
Happy crafting! Hope to see your crafts soon as well
Welcome to the community!
hello! Yes your account is very cute and yeah, i see you like sanrio too right?
hi!! thank youu
What's your favorite project you've made?
thank youu !
Hihi, thanks! And I see u like seventeen
recently I've made a Snoopy with a Woodstock and they have become my favorite now, I also have a little bear but I haven't finalized it already :[ and you?
YESS!! I love them, also see that you like k-pop… What are your favorite groups?
Ooh, would probably have to be my crochet duck in a hat and bag. It looks like a little grandma LOL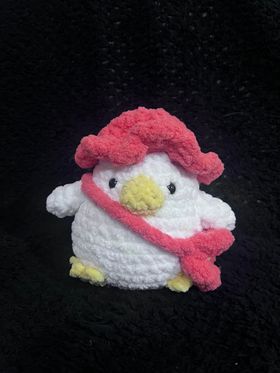 Welcome! I'm pretty new here too, and everyone has been so nice!
IT'S SO CUTE OMGG love the little hat, it makes it prettier!! °ʚ(´꒳`)ɞ°
Nice to meet you! and yess, everyone are so kind here
I like Le sserafim, twice and newjeans!! Also akmu is cool!!
That's so cute where pattern?
CAN I SEE CAN I SEEEEEE
I love snoopy lol